The Hall of Celestial Purity
乾清宫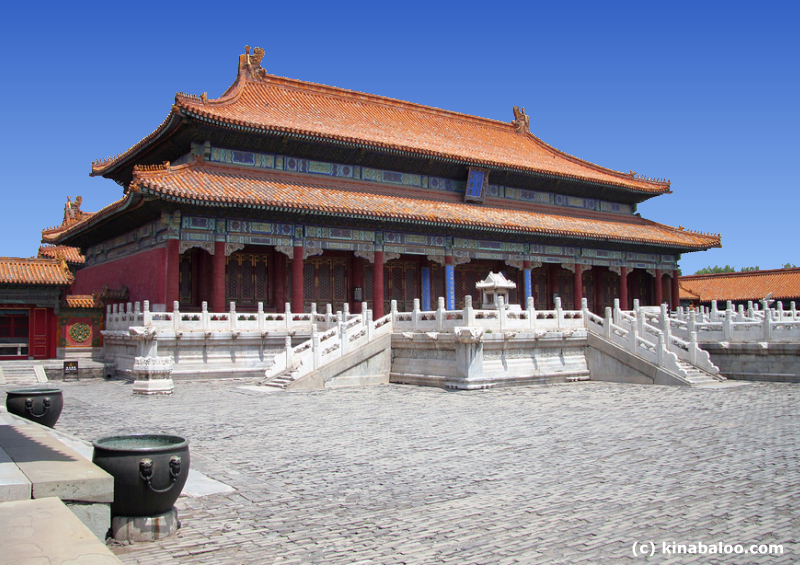 Inside the Gate of Celestial Purity (QianQingMen), the first building you will see is the Palace of Celestial Purity or Palace of Heavenly Purity (QianQingGong). It is the smaller twin of the Hall of Supreme Harmony. Hence there is a smaller sun-dial, smaller tortoises, smaller grain measure, smaller storks and other smaller scale items. However, it is the largest structure in the Inner Court. It was built in 1420 and rebuilt in 1798.
在乾清门内,你看到的第一个建筑就是乾清宫。它是太和殿小一号的孪生弟弟。因此这有小一号的日晷、小一号的龟、小一号的鹤、小一号的嘉量、还有其他小一号的容器。然而它是内朝中最大的一个建筑。它建于1420年重修于1798年。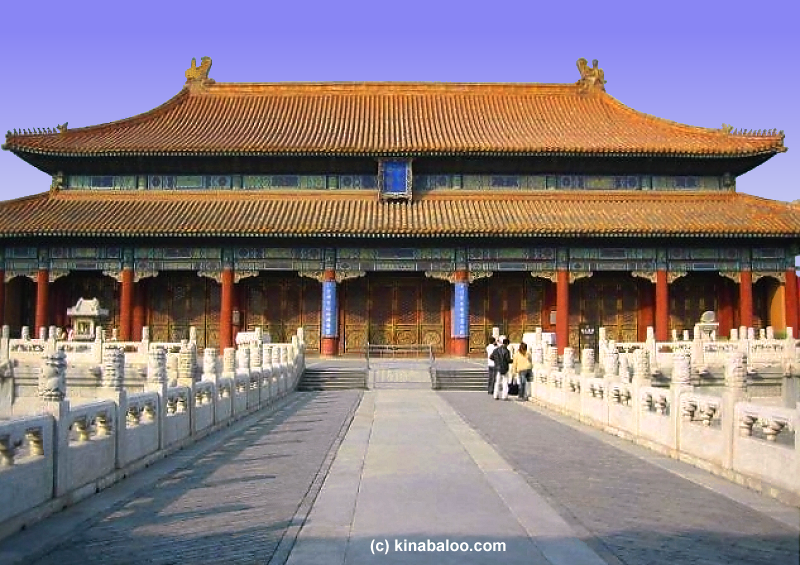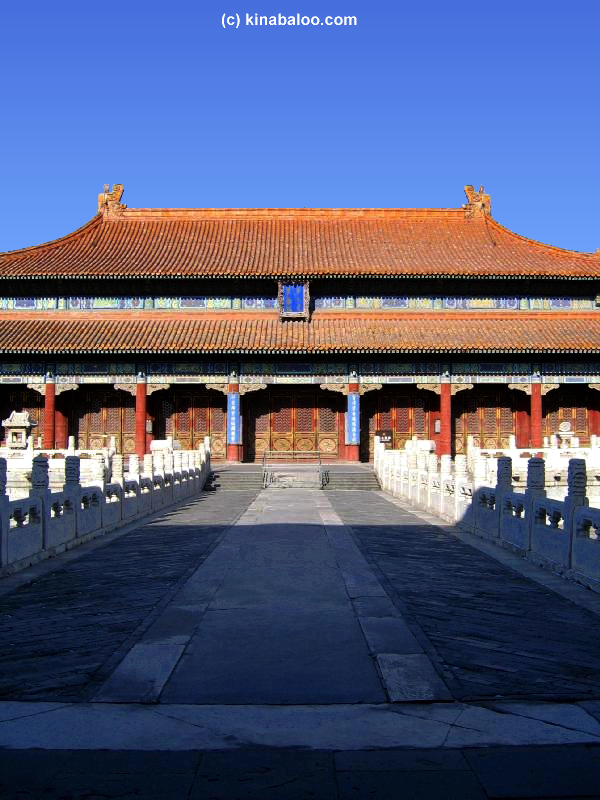 Sometimes this palace was used as the emperors' bedroom palace - the Ming emperors and the first two Qing emperors lived inside this palace and attended to daily state affairs there. Later, Emperor YongZheng moved his living quarters to the Hall of Mental Cultivation, which is located directly to the west of this palace. However, it still played a significant role in the imperial life. Foreign ambassadors were also received here.
Banquets and rites occasionally would be held here too. For example, in 1722 and 1785, a 'Banquet for a Thousand Seniors' was held here. Old men over 60 from the nation presented the events. Emperor QianLong sent them presents afterwards.
Moreover, during the Qing dynasty, no matter where the emperor died, his coffin would be placed in this palace for a few days to hold memorial ceremonies. Later, the coffin would be moved to GuanDeDian (Hall for Observing Military Virtue) in JingShan. Finally, the deceased emperor was buried in the imperial mausoleum on a selected day.
有时这个地方作为皇帝的寝宫—明朝的皇帝和清朝前两个皇帝都在这居住,也在平时处理日常政务。之后的雍正皇帝,把他的寝宫移到了位于乾清宫西面的养心殿。然而,它仍然在皇帝的生活中起着重大的作用。有时也在这接见外国使节以及举行内廷典礼和家宴。例如,1722年和1785年的"千叟大宴"都是在这举行的。凡是年龄在60岁以上的老人都可来参加这个宴会,之后皇上还会送礼物给他们。
此外,在清朝期间,无论皇帝死在什么地方,他的灵柩都会运回到这停放数日举行祭奠仪式。之后灵柩会被运到景山的观德殿。最后,皇帝会在一个黄道吉日安葬在皇陵。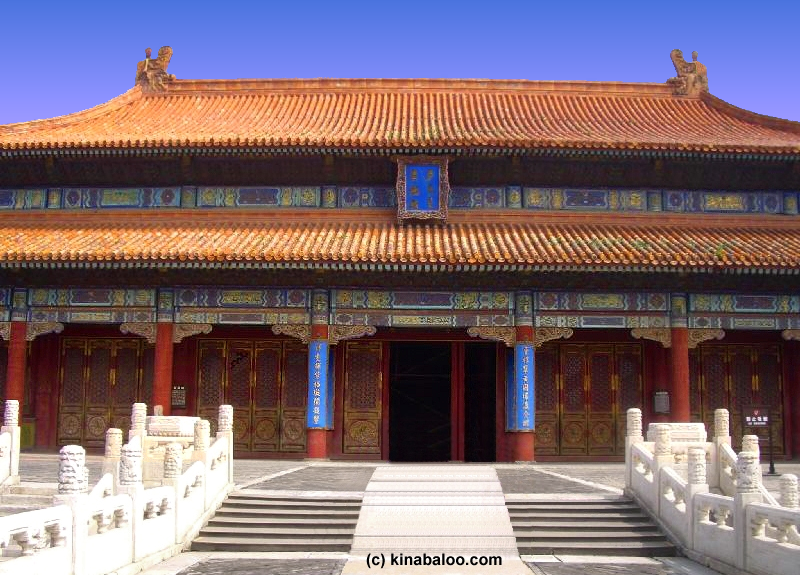 In the middle of the palace, the throne sits on a raised platform with stairs in front, surrounded by decorations like cloisonne incense burners, long red candles and large mirrors, which were placed beside the throne to ward off evil spirits (this belief is still deeply rooted in the minds of many Chinese).
在宫殿的中间,宝座安置在一个前面有台阶的基座上,后面有装饰的屏风,周围放置着许多景泰蓝的香炉,长长的红烛,和巨大的镜子放在宝座的两旁用来照妖阻止一些邪恶灵魂的靠近(一些中国人至今仍相信这种说法)。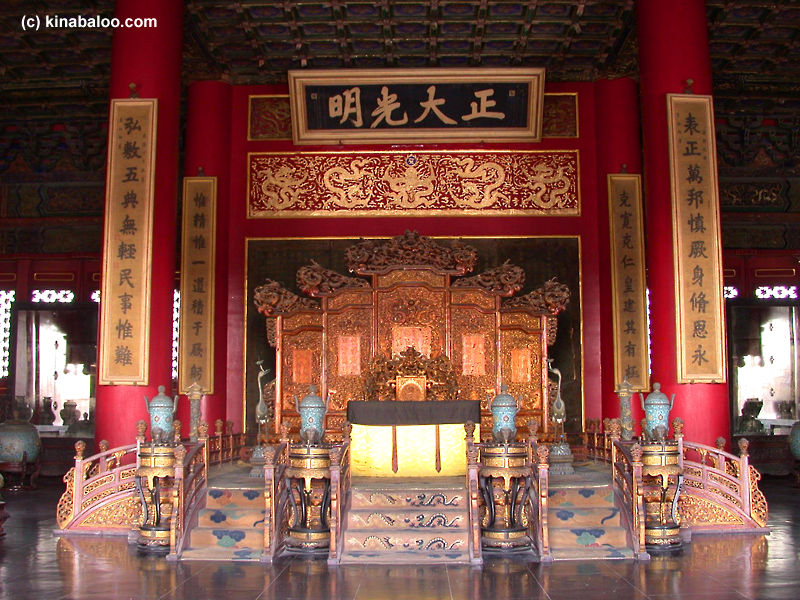 On the two nearest columns, there are couplets written by Qing emperors. Over the throne hangs a plaque engraved with 4 Chinese characters, written by Emperor YongZheng, that mean 'Justice and Brightness', or 'to be fair and open'.
在两旁挨着的柱子上,有清朝皇帝写的对联。在宝座顶上有一个牌匾上面的四个中国字是雍正写的,它们的意思是"正义和明亮",或"公平和公正"。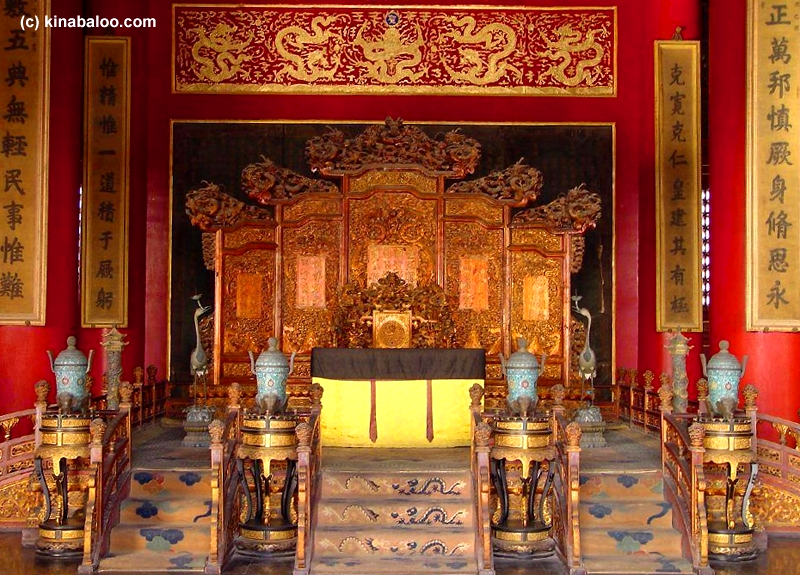 From the time of Emperor YongZheng, the secretly chosen crown prince's name would be written on duplicate documents and one copy would be hidden in a box behind the plaque. The other copy would be kept with the emperor. If the designated names on the two copies were the same, the designated prince could ascend to the throne.
The last emperor, PuYi, was married in December 1922 in this Palace.
自雍正帝开始采取秘密建储的办法,秘密写出所选皇位继承人的文书,一式二份,一份放在皇帝身边;一份封在"建储匣"内,放到"正大光明"匾的背后。皇帝死后,取下"建储匣"两份对照如果一样,那个王子即可登上宝座。
最后的一个皇帝溥仪,是于1922年在此大婚的。




Next : The Hall of Celestial and Terrestrial Union

Forbidden City
Introduction