The Nine Dragon Screen
九龙壁
Facing the Gate of Imperial Supremacy is the famous Nine Dragon Screen, the biggest in China.
It was built in 1771 during the reign of Qing Emperor QianLong.
Until recently, there were altogether three Nine Dragon Screens in China. The oldest one is located in Datong city, Shanxi Province; it was built during the Ming Dynasty (1368-1644). The third was built in Beihai Park during the Qing Dynasty (1644-1911), which is within walking distance from the Forbidden City. The one in Beihai is unique in having dragons on both sides.
The most recent additon to the Nine Dragon Screen family is the one built inside the XiJiao (West Suburb) Park in Wuxi City, Jiangsu Province in 1985.
面对着皇极门的是著名的九龙壁,是中国的最大的。建于1771年清朝的乾隆年间。
迄今为止在中国总共有三个九龙壁。最老的一个是在山西大同市;它建于明朝(1368-1644)。第三个在北海公园建于清朝(1644-1911),它位于位于紫禁城只几步之遥。北海里的那个是唯一一个双面九龙壁。
在1985年,九龙壁家族又新添了一个,它建在江苏省无锡市的西郊公园里。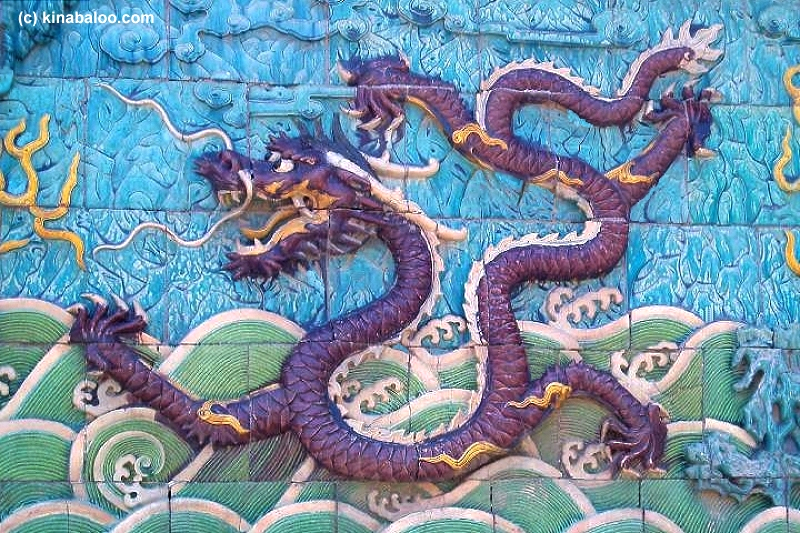 The Nine Dragon Screen is 6 metres high and 31 metres long. It is constructed with 270 glazed tiles.
九龙壁高6米长31,共用270块琉璃砖建成。
The Legend of the Broken Tile
If you look carefully at each individual dragon, you will find something unusual about the screen. The third dragon from the left is a slightly different colour at the bottom. Legend has it that the day before Emperor QianLong's inspection, one tile (located at the bottom of the third dragon) suddenly fell down and broke into many pieces.
Because there was very little time left, and everyone would be beheaded if one part was left broken, as a last resort a carpenter made a wooden one to look exactly like the original. Fortunately, the emperor did not discover the discrepancy and the lives of all the craftsmen were saved.
一个碎瓦砾的传说
如果你仔细的观察每一个龙,你会发现在屏风上有一点不一样的地方。从左边数的第三个龙在底部的颜色有一点不一样。传说中,在乾隆皇帝要来视察的前一天,有一个瓦(在第三条龙的下面)突然掉了摔成了许多碎片。
因为所剩的时间不多了,如果一个地方坏了所有的的人都是要掉脑袋的,在最后一个木匠用木头刻了一个和原来一样的放在那。幸运的是皇帝没有看出来,这样所有的工匠都保住了性命。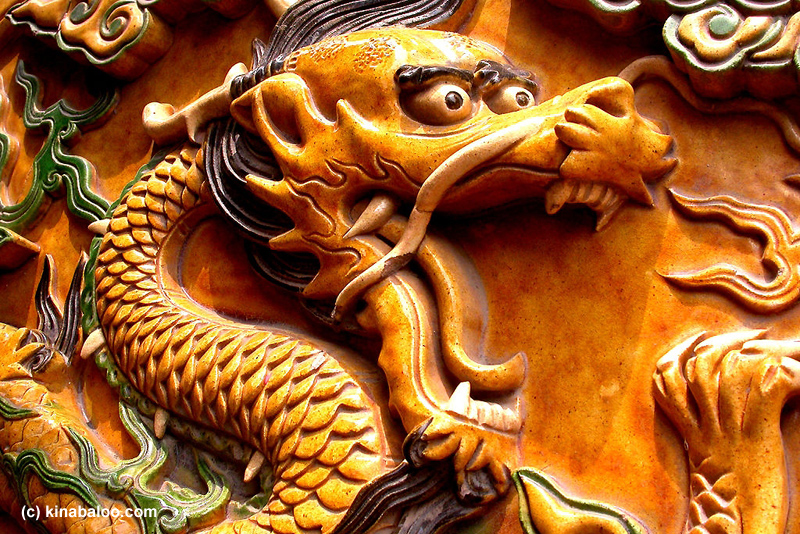 Next : Other Places of Interest

Forbidden City
Introduction