Getting to the Forbidden City
到紫禁城
Because the Forbidden City is at the center of Beijing, it is very easy to get to. By subway is probably best - arrive at TianAnMen by getting off at 'TianAnMen Dong' (TianAnMen East) station which is the closest of the two TianAnMen stations on Line 1. You can also walk to TianAnMen from WangFuJing along Chang'An avenue.
因为紫禁城是在北京的中心所以到那很容易。乘地铁可能是最好的方式—到达天安门,在天安门东站下车这是在一号线上两个天安门站中最近的一个。你也可以从王府井顺着林荫大道走到天安门。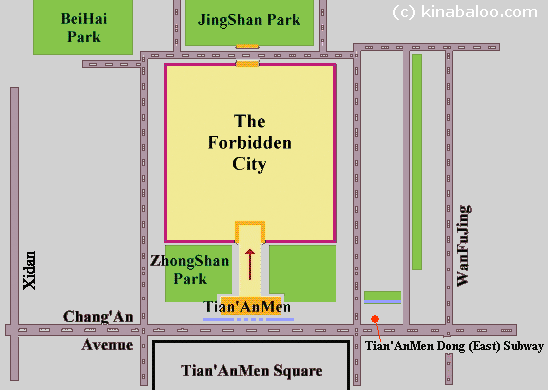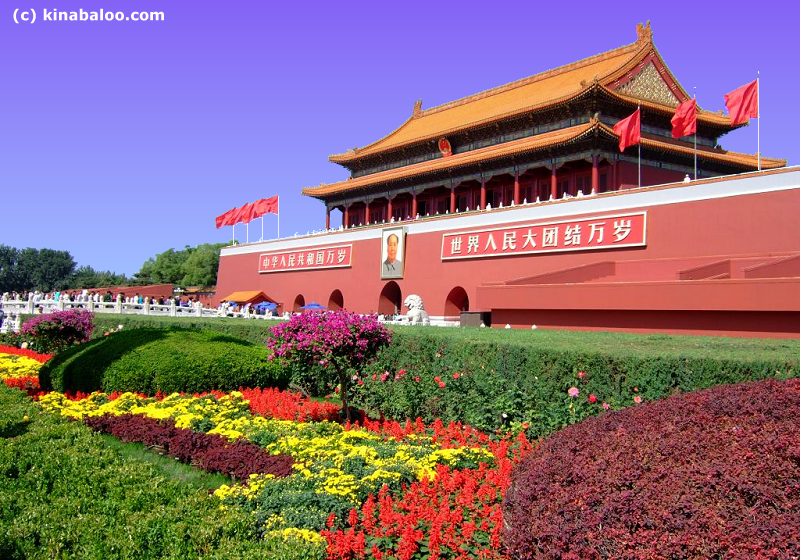 TianAnMen Gate.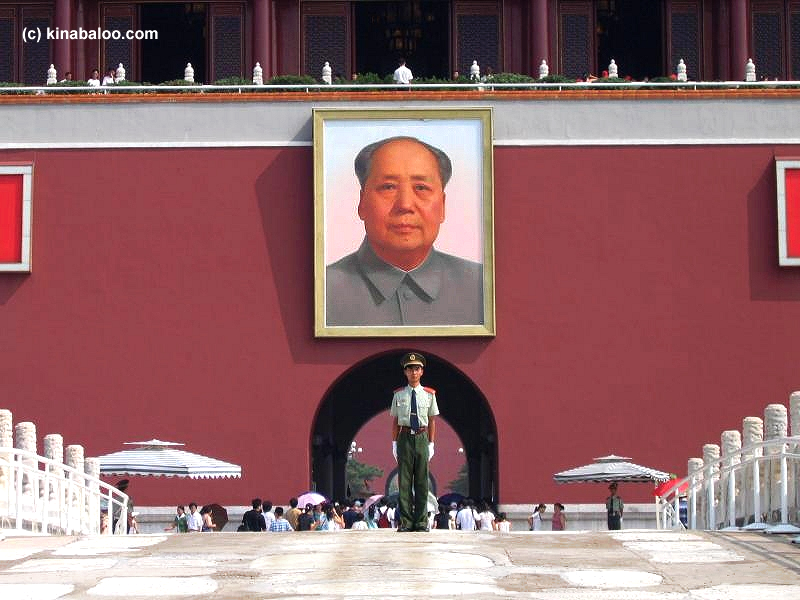 When passing through the arched tunnel of TianAnMen below Mao's portrait, look back to see the red flag flying in TianAnMen Square.
当穿过天安门的大门时,回头可以看见五星红旗迎风飘扬在天安门广场上。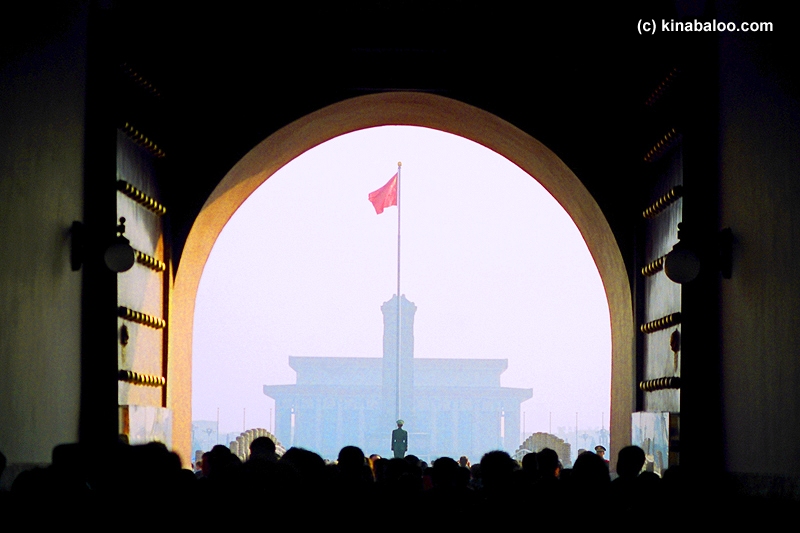 For a small fee, you can climb the steps of the Tiananmen Gate and once at the top, you will have the opportunity to look out over the Square. Here you will see the same panoramic view that Mao enjoyed while in reign. Because this was Mao's favorite place to watch the people walking below, in his honor a gigantic portrait of him hangs there today.
付很少的门票费,你就可以登上天安门,一旦你站在顶上,你就会看见整个广场的全景。在那你可以看到和毛主席当时看到的一样的全景。因为这是毛主席最喜欢的地方,可以看见他的人民走在下面,为了纪念他的荣誉至今他的巨大的肖像仍挂在门上。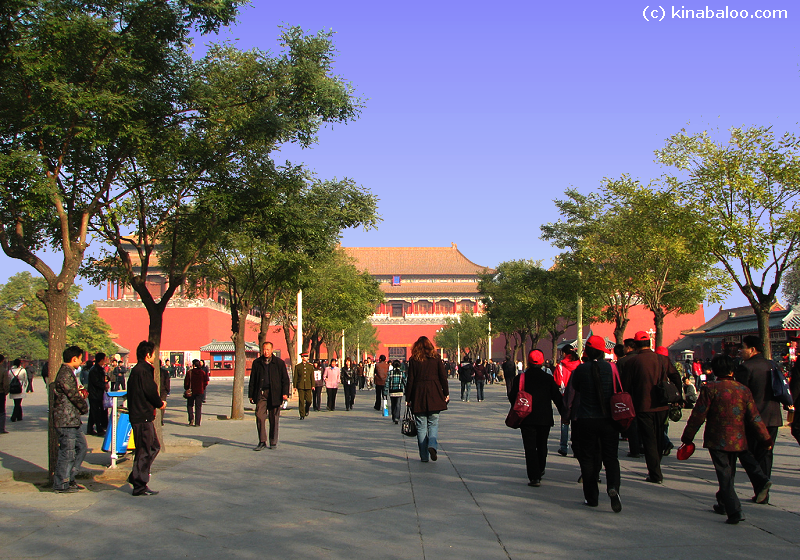 Approaching the Meridian Gate.
Walk straight ahead northwards until you reach the Meridian Gate of the Forbidden City where you can buy your entrance ticket.
一直朝北走直到你到达紫禁城的午门,在那你可以买到进去的门票。
There are entrances to the Forbidden City in the south and the north. However, it is best to enter via the south gate via TianAnMen because this gate is the main gate and traditionally the 'front door'.
This will allow you to experience the carefully laid out complex to best effect; and you will be facing the (sunny) front side of each structure as you progress northwards. You will experience the Forbidden City just as any foreign envoy in the past would have done, humbled by each gate, hall and massive courtyard as he made his way to to see the emporer.
Similarly, we recommend taking the central axis from south to north when first inside the Forbidden City. After reaching the Imperial Garden, you can backtrack to explore the buildings and exhibitions to the east and west of the central axis.
The nearby parks BeiHai, JingShan and ZhongShan are in easy walking distance of the Forbidden City. ZhongShan Park was created as part of an extended palace grounds; it offers views of the Forbidden City across the moat and you can also hire a small pleasure boat. JingShan has a man-made hill with five pavillions on top. The central, highest one offers a good panoramic view of the Forbidden City.
在南北都有门进入,然而最好是从穿过天安门从南门进,因为这个门是主要的门而且从传统意义上讲这是"前门"。
允许你去仔细体验这个深宫大院达到一个最好的效果,当你往北走的时候你将会从正面看到每一座大殿,你可以体验这个紫禁城就像当年的外国使者一样,卑微谨慎的穿过每一个大门、大殿还有这巨大的院子,一路向前去拜见皇帝。
同样,如果是第一次进来,我们建议您顺着中轴线从南到北一直走到御花园后,你可以从中轴的东西边返回参观两边的建筑。
这附近有北海、景山、和中山公园,他们都很容易从紫禁城步行而到。中山公园作为宫殿的一个延伸公园,在那你可以租一个小艇游护城河。景山公园有个人造山,山顶上有五个亭子。这是中心点上最高的地方去欣赏紫禁城全景。
The Forbidden City is open daily all year.
October 16th - April 15th 8:30 - 16:30 Last Entry at 15:30
(including the Clock Gallery and Treasure Gallery)
April 16th - October 15th 8:30 - 17:00 Last Entry at 16:00
(including the Clock Gallery and Treasure Gallery)

Forbidden City
Introduction