The Hall of Terrestrial Tranquility
坤宁宫
The Palace of Terrestrial Tranquility (KunNingGong), was first built in 1420. It was rebuilt in 1655, this time as a copy of QingNingGong (Hall of Peace and Tranquility) in ShenYang (LiaoNing province). It is the only Manchurian style architecture in the Forbidden City and has its gate on the eastern side rather than in the middle. It was renovated in 1798.
It is nine bays wide and three bays deep with double eaves.
This hall was the residence of the empress during the Ming and Qing dynasties. However, during the Qing dynasty, the bridal emperor and empress only lived in the East Warmth Chamber of this palace for a few days. Later the emperor moved to the Hall of Mental Cultivation and the empress moved to another palace.
The emperor's bridal chamber in the East Warmth Chamber was painted red and lanterns were painted with red Double Happiness characters. In fact, nearly everything there was red!
坤宁宫,始建于1420年。1655年重建,它仿制了位于辽宁沈阳的"清宁宫"。它是紫禁城里唯一的一个北方风格的建筑,它的门是在东边开的而不是在中间。1798年重修。
大殿面阔连廊9间,进深3间,黄琉璃瓦重檐庑殿顶。
这个大殿是明清两代皇后住的地方。然而在清朝期间,新婚的皇上和皇后只在东暖阁住几天,然后皇上就移到养心殿住,皇后也移到其他地方了。
皇帝大婚的洞房在东暖阁,挂着红色的灯笼和红色的双喜,实际上几乎所有的东西都是红色的。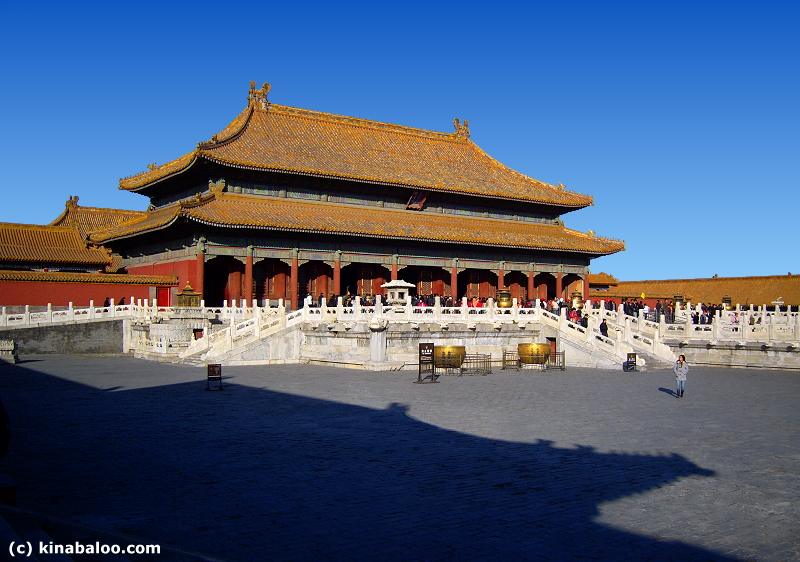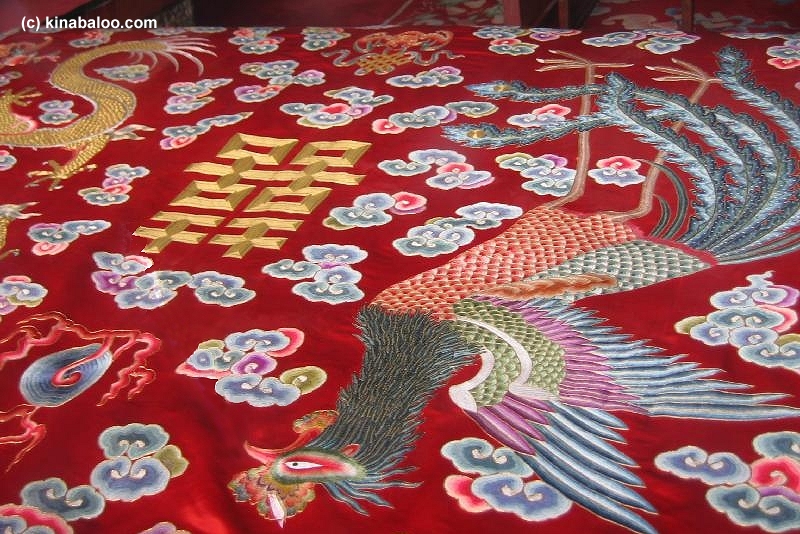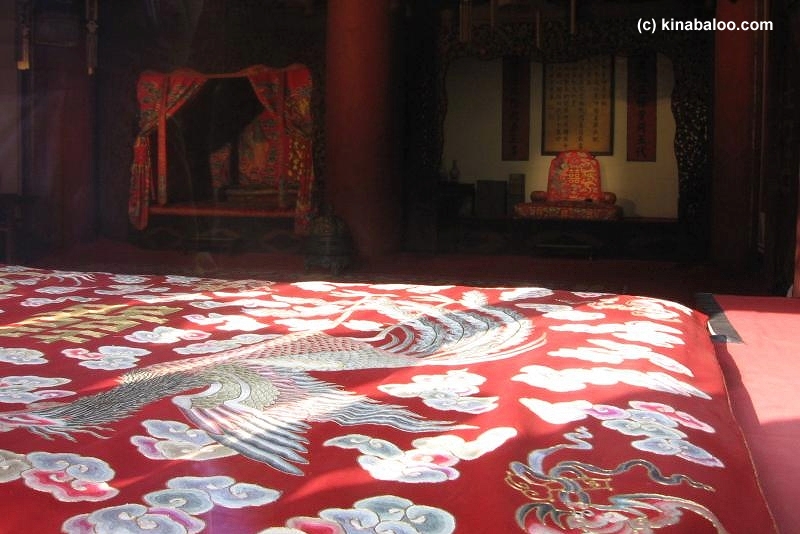 The delicate and exquisitely embroidered bed curtain and quilt both feature a hundred playing children. The emperors all hoped for plenty of children to show the imperial family's prosperity. However, the last emperor, PuYi, did not like the wedding chamber and expressed his discontent in his famous autobiography 'From Emperor to Citizen'.
In the West Warmth Chamber, a sacrifice would be held every day. On important occasions, emperors and empresses would preside over the ceremonies themselves.
Behind the palace is the Gate of Terrestrial Tranquility (KunNingMen), with the imperial doctors' duty room, dispensary and eunuchs duty room to the sides.
做工精致细腻的红色床帘和喜被上面刺绣的都是百子图。所有的皇帝都希望他们子孙满堂,以显示皇族的人丁兴旺家族繁荣。然而最后一个皇帝,溥仪,不喜欢这个洞房,而且还在它的自传著名的《从皇帝到公民》中明确的指出。
在西暖阁,每天都会宰割祭神的牲口。在重要的祭典上皇上和皇后会亲自到场主持。
在宫殿后面的门叫坤宁门,两边的房间为御医和太监的值房,还有御药房。


Forbidden City
Introduction