The Outer Court
外朝
So far we have entered the grand Meridian Gate and crossed the five bridges that span the Inner Golden River and the large first courtyard. Across this courtyard lies the Gate of Supreme Harmony. This marks the start of the Outer Court proper.

However, if one simply divides the Forbidden City into two parts - Outer Court and Inner Court - then we now head into the main part of the Outer Court.

The Outer Court consists of three grand halls sitting on a raised marble terrace. In front of the halls and terrace lies a courtyard and the gate to the Outer Court.

到目前为止我们已经进入午门,穿过与第一个院子交叉的金水河上的玉石桥。穿过横卧在大院的太和门,就开始是严格意义上的外朝了。

然而,如果简单的把紫禁城划分为两个部分—外朝、内朝,那么我们现在已经进入外朝最主要的部分了。

外朝由座落在三层大理石基石上的三大殿组成。在横卧在院内的大殿和基石前是进入外朝的大门。
The Gate of Supreme Harmony
太和门
The Gate of Supreme Harmony (TaiHeMen), north of the first courtyard, is the main gate of the Outer Court.
太和门是外朝的主要的大门,它北面就是第一个院子。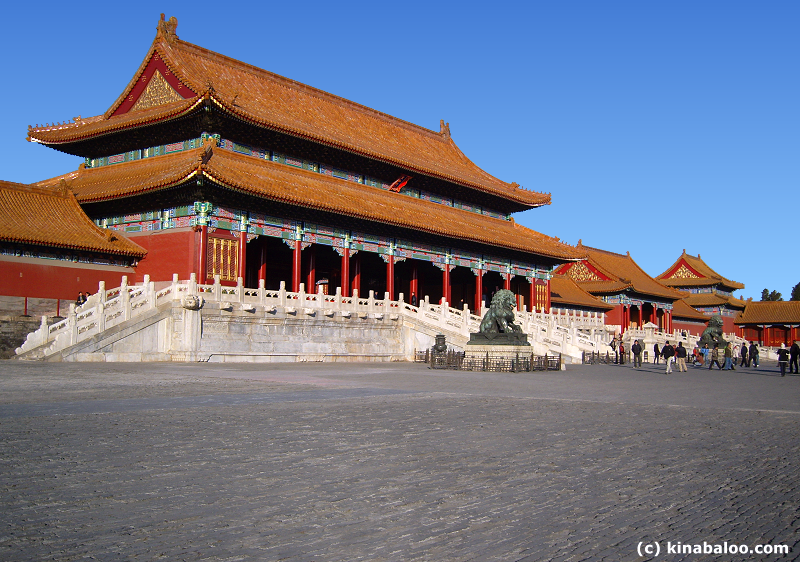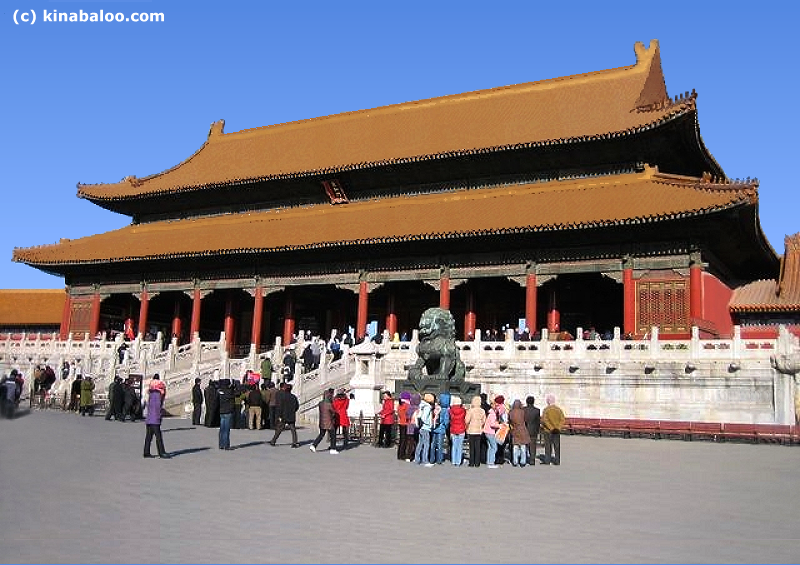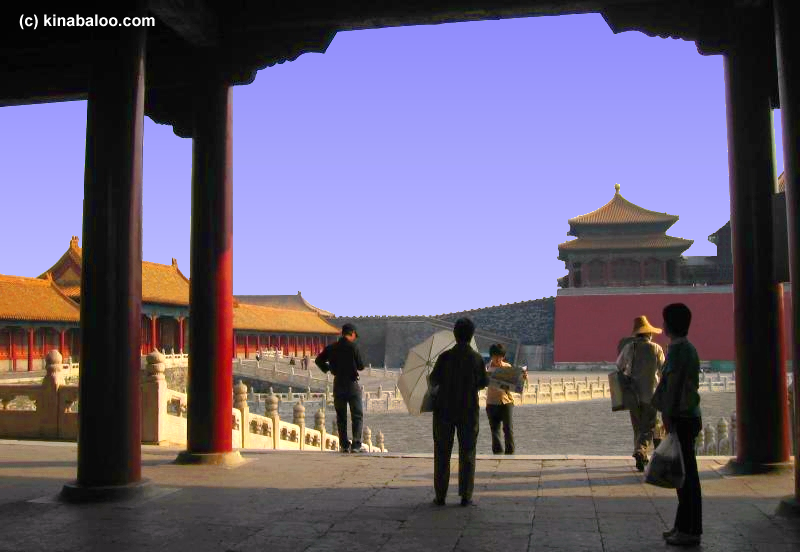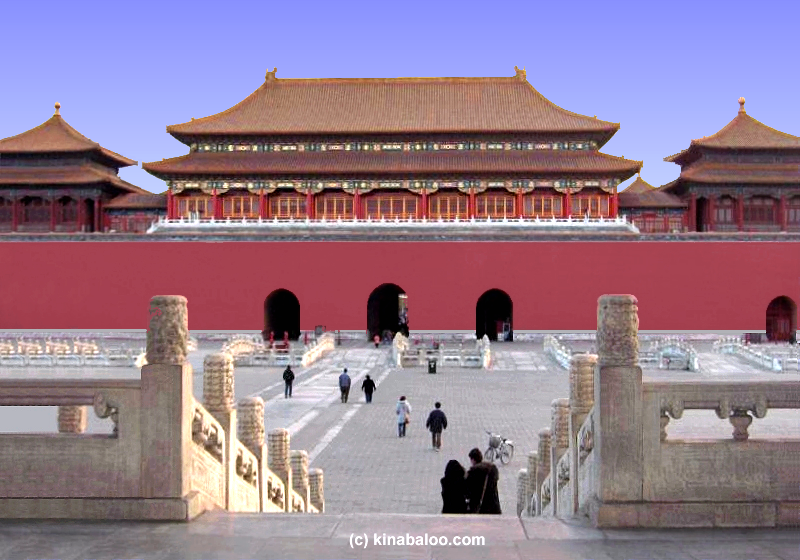 The gate is guarded by a couple of bronze lions which aimed to show imperial dignity. The west one is male, with its front right paw resting on a ball, symbolizing imperial power extended worldwide.
The lioness on the east side has its front left paw on a lion cub, indicating a prosperously growing family and the never-ending secession of the imperial lineage.
大门口守卫着一对青铜狮子,充分显示了帝王的尊严。西面的一个是雄狮,它的前右抓下按着一个球,象征着皇帝的权利延伸到全世界。东面的一只是雌狮,它的前左爪下按着一只小幼狮,寓意着皇室家族的人丁兴旺和永不分离的皇室血统。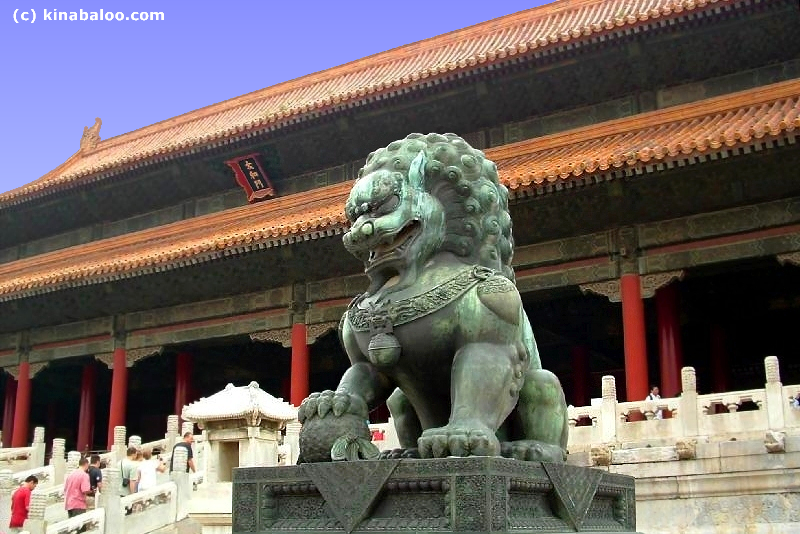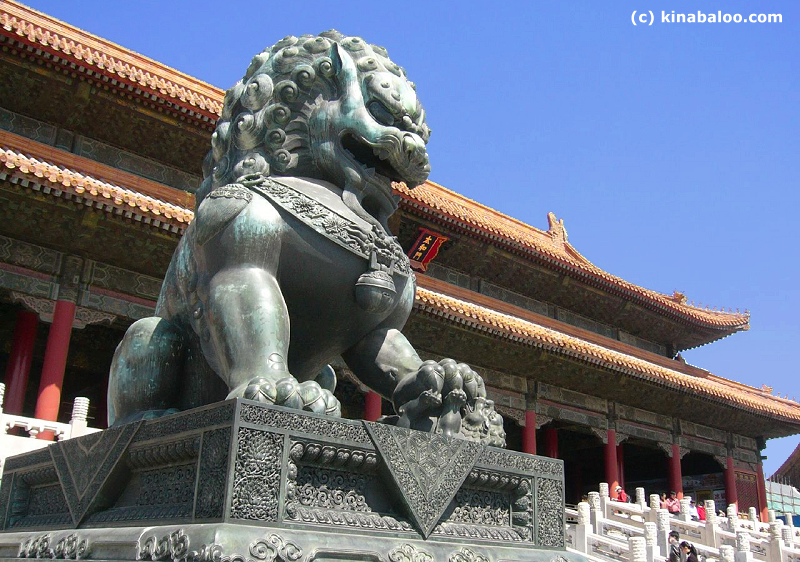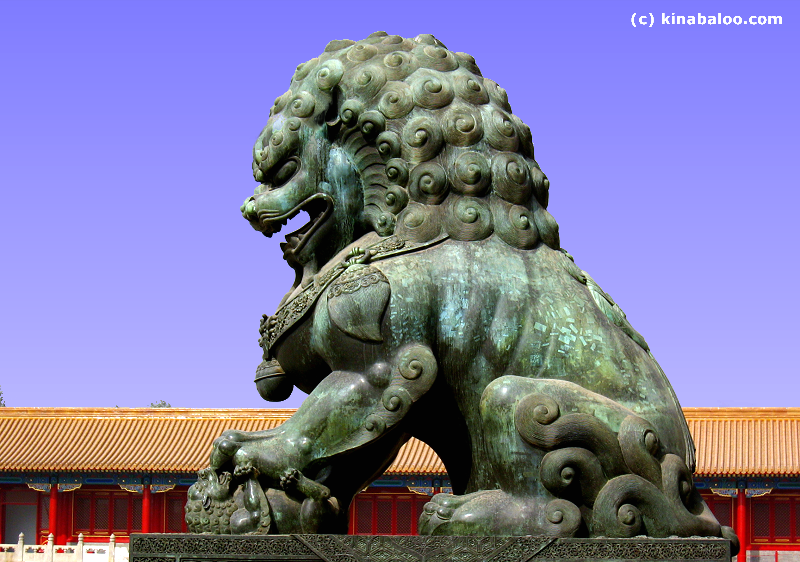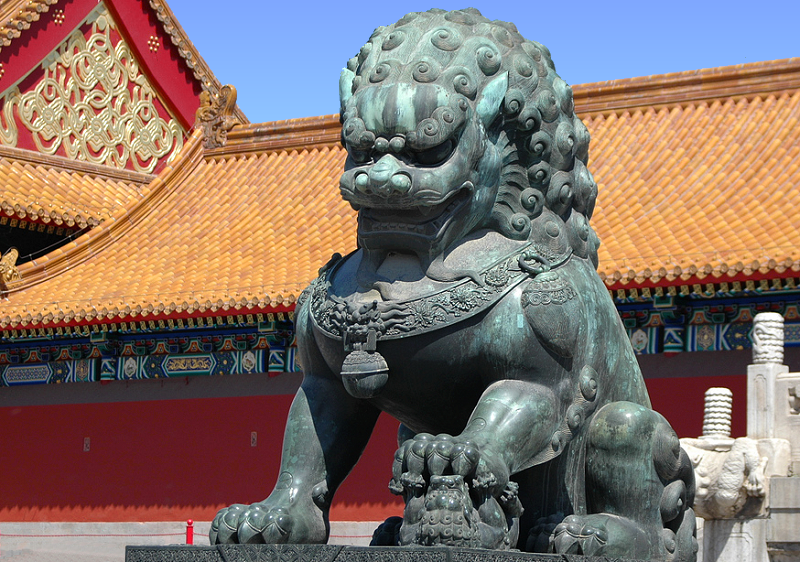 The Gate of Supreme Harmony is an important place where emperors' wedding ceremonies were usually held. It leads to the three grand halls of the Outer Court.
太和门是一个非常重要的地方,通常皇帝的大婚会在这举行。从这通向外朝的三个大殿。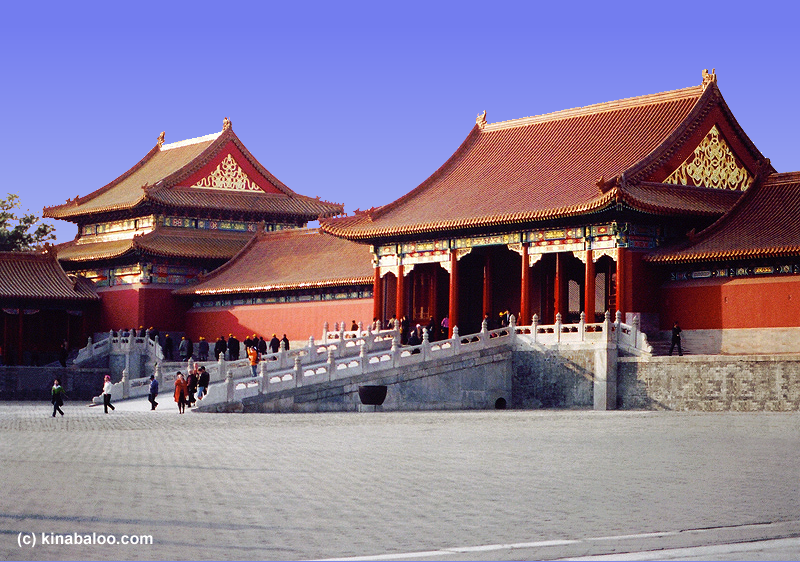 One of the two side gates.

Looking back towards WuMen.

Forbidden City
Introduction