The Hall of Complete Harmony
中和殿
The Hall of Complete Harmony (ZhongHeDian), was originally built in 1420 and restored in 1627 and again in 1765. It is the smallest of the three main halls in the Outer Court and is square in shape rather than rectangular.
The Hall of Complete Harmony served as a rest and preparation room when emperors were going to present ceremonies in the Hall of Supreme Harmony. It was in this hall that the emperor would interview his ministers of rite.
中和殿,始建于1420年修复于1627年,1765年再次翻修。它是外朝三大殿中最小的一个,外形上更接近于正方形。
当皇上去参加太和殿举行的重大庆典前,中和殿就作为一个预备室和休息室。皇帝在这小憩并接受执事官的朝拜。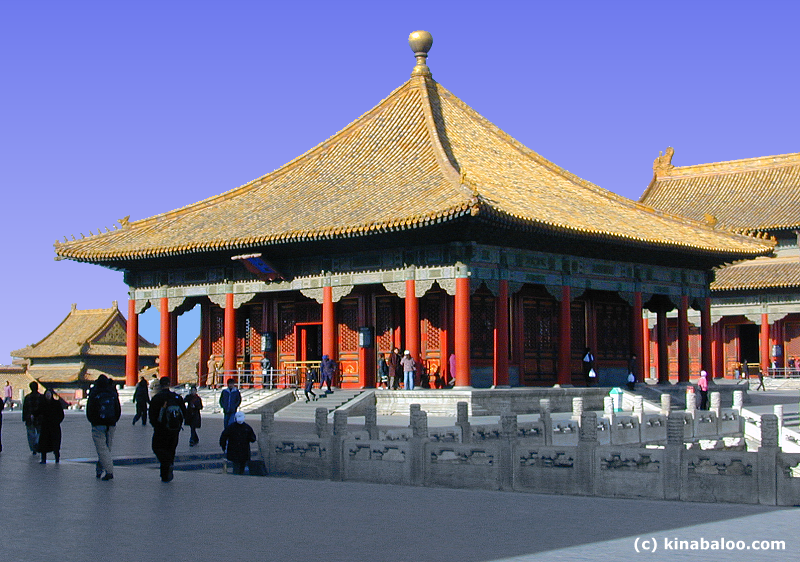 Before their departure to important sacrifice rites held at the Temple of Heaven, Temple of Earth, etc., emperors would rehearse their speeches here. Before their departure to the Temple of Ancestor Farmers, they would also inspect the seeds and farming tools that they would use in the ceremony.
凡遇皇帝亲祭,如祭天坛、地坛,等等这样重要的大型祭典前,皇帝于前一日在中和殿阅视祝文。祭先农坛举行亲耕仪式前,还要在此查验他将要在仪式上用到的种子和农具。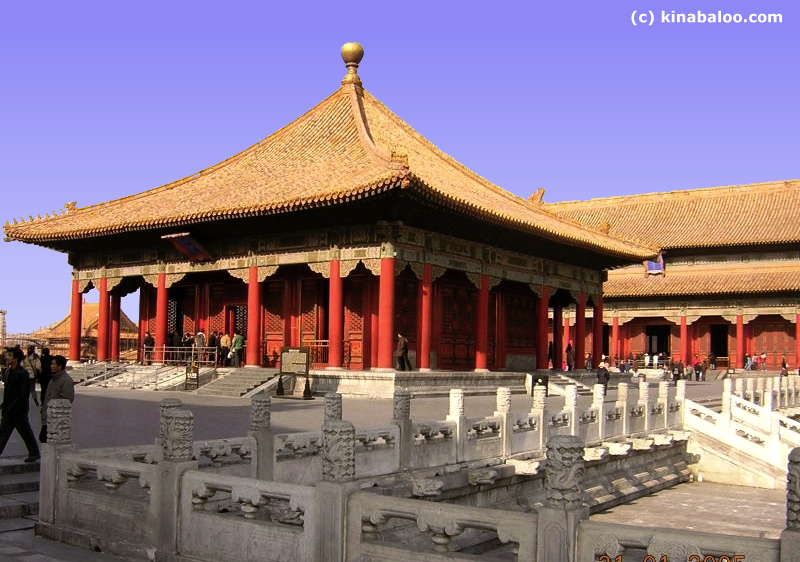 During the Qing dynasty, it was prescribed that the imperial geneology should be revised every ten years. The ceremony of presenting the revision to the emperor would also be held here.
在清朝期间,规定皇帝家族的宗谱每十年就要修订一次。此书为玉牒,完成之后恭进中和殿呈御览,同时要举行隆重的存放仪式。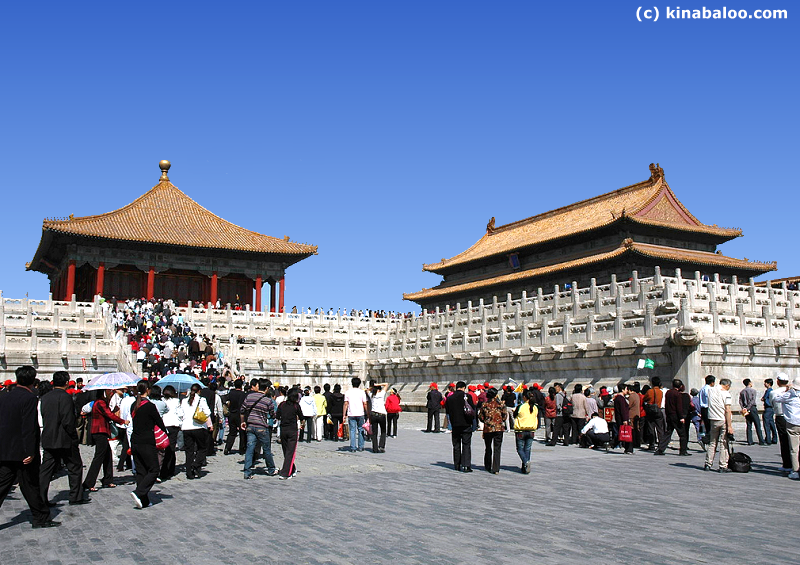 Sometimes the name of this hall is translated as 'Middle Harmony' or 'Central Harmony'.
The meaning is something like : taking the middle road, not an extreme; being balanced; it refers to the old chinese notion of 'The Golden Mean', an idea developed by the disciple of Confucius named Mencius.
有时这个殿也被人翻译成"中间的殿"或"中心的殿"这个意思有点像"取中间的路,不要走极端,凡事要和谐处之"这个观点是来自中国古时的观念"中庸之道"这是孔子著名弟子孟子的观念。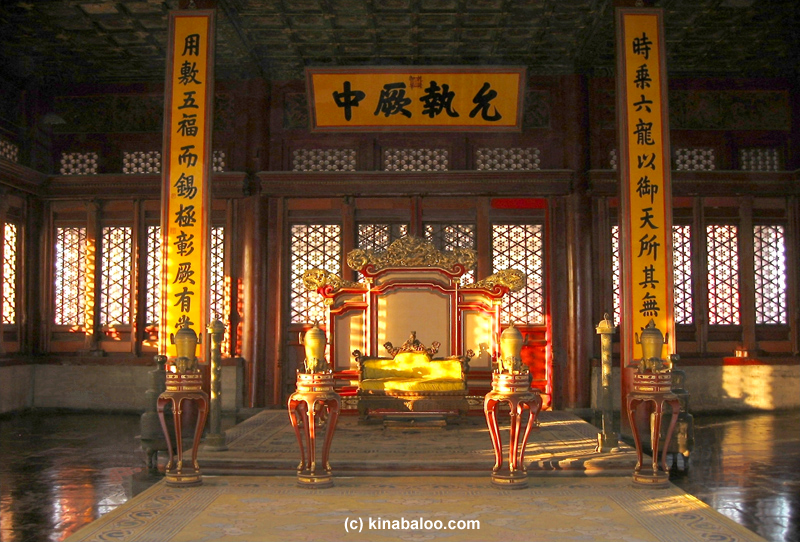 Inside the hall, visitors can see a golden unicorn on each side of the throne, which is in the center of the hall. The unicorn, called luduan in Chinese, was believed to be capable of traveling 9,000 kilometers in a day and speaking many languages. Therefore this divine beast was put beside the throne to indicate the emperor's wisdom and brilliance. The golden unicorns also served as sandalwood burners.
在大殿里,游客可以看到位于大殿中心的宝座每一边都有一个金色的独角兽。这种独角兽的中文名字叫"甪端"是一种可以日行9000公里,还可以说很多种语言的神兽。因此它被放在宝座的两旁为显示出皇帝的英明才智。它也是个香炉,用来焚香。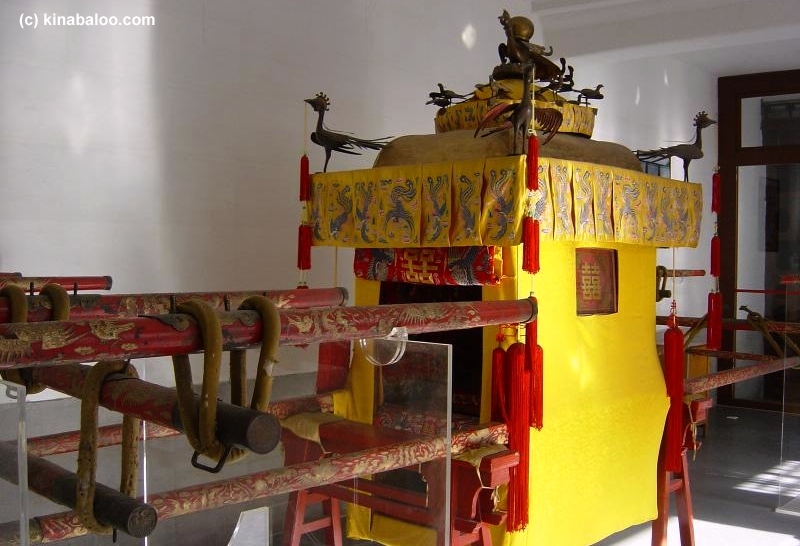 Beside the throne, there are also two sedan chairs, which were used to shuttle the emperor around the Forbidden City.
宝座旁边还有一个轿子,过去是用来在紫禁城内抬皇帝的。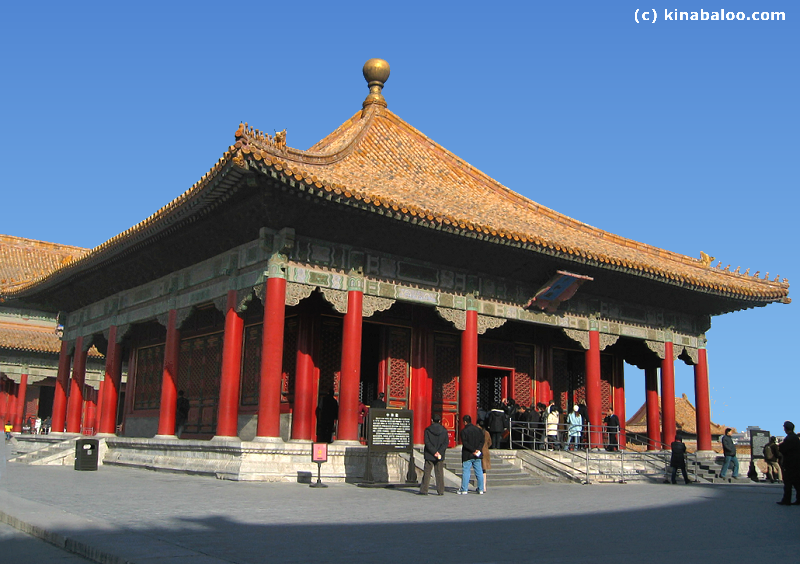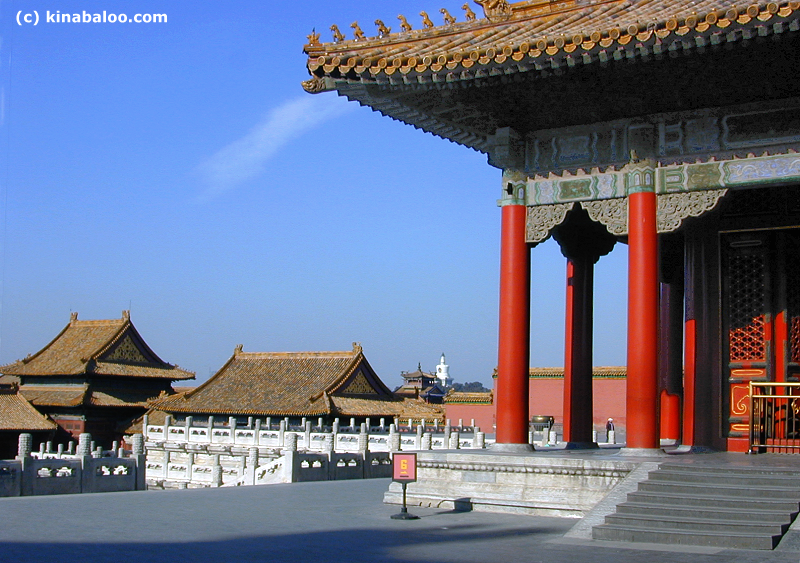 The Hall of Complete Harmony is approached via a raised walkway.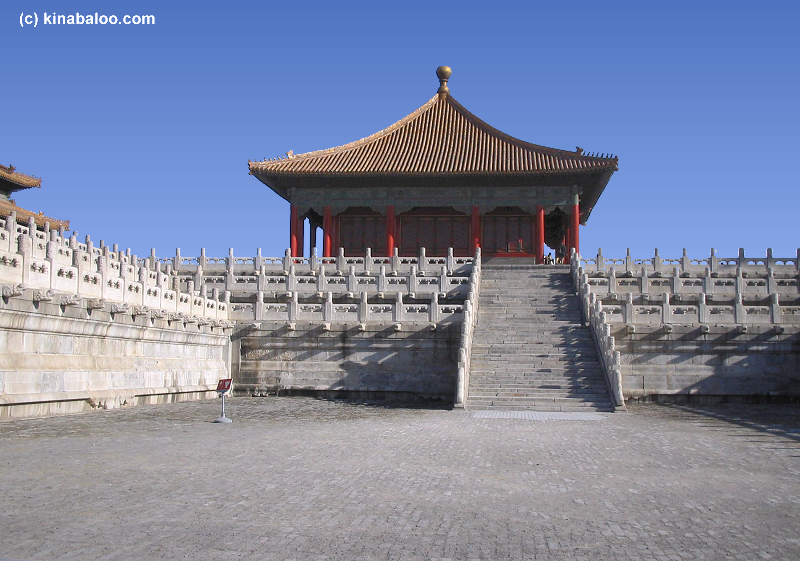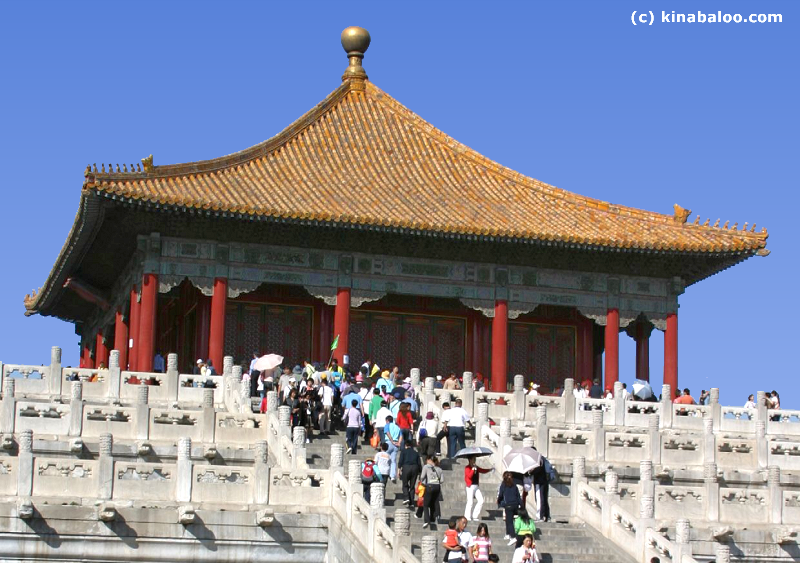 Next : The Hall of Preserving Harmony

Forbidden City
Introduction