The Hall of Supreme Harmony, part 2
太和殿 (2)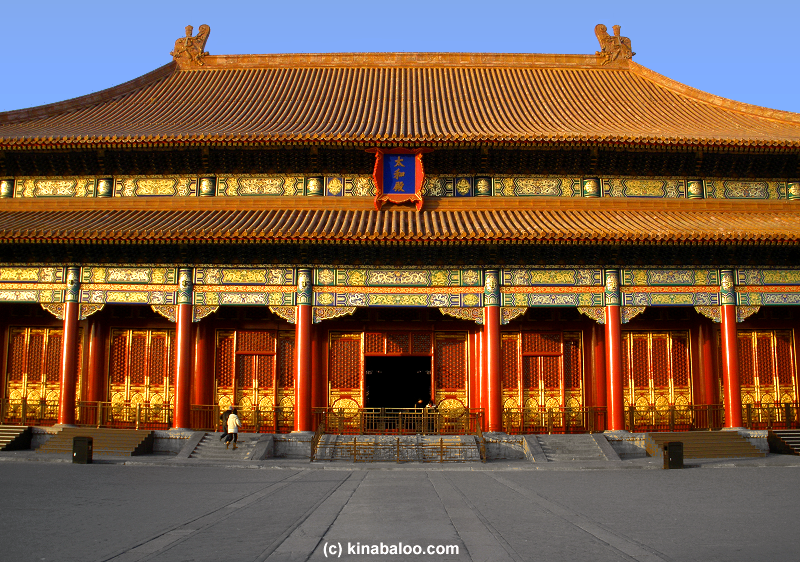 As a symbol of imperial power, the sandalwood throne, standing on a two-meter high platform, is located in the center of the hall and encircled by six gold-lacquered pillars painted with dragons.
The golden throne is carved with dragons all over. Around the throne stand two bronze cranes, an elephant-shaped incense burner and tripods in the shape of mythical beasts.
The hall is heavily painted with dragons and has an aura of solemnity and mystery.
作为皇权的象征,檀香宝座放在两米高的平台上,它是这个大殿的最中心。宝座两边排有6根画着云龙图案的金色柱子。
金銮宝座上到处都雕刻着龙。在宝座前的两侧有宝象、甪端(音录端,一种神兽)、仙鹤和香亭。
整个大殿很浓重的用龙描绘着,让人感觉到神秘而严肃。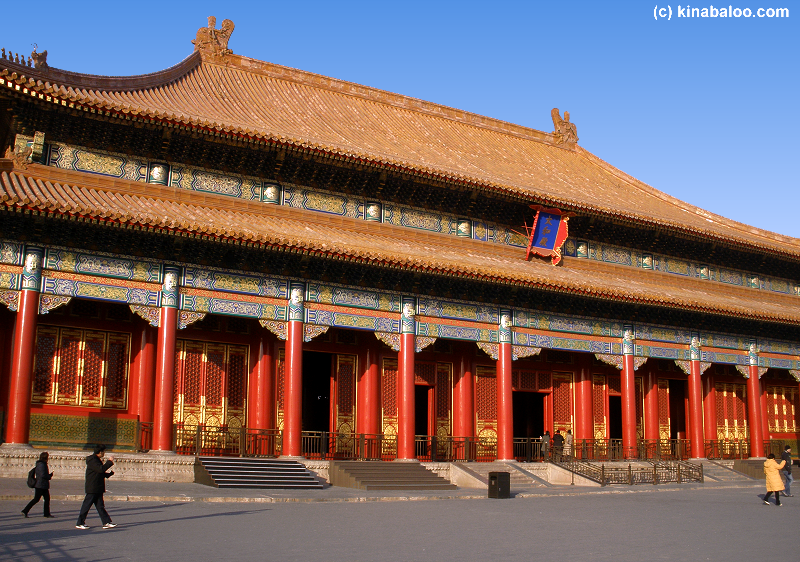 The emperor's throne, which is surrounded by various art treasures of symbolic significance, is in the middle of the hall. Above the throne is a gold painted caisson, or coffered ceiling, with dragon designs.
In the middle of the ceiling is the design of two dragons playing with pearls. The pearls were made of glass and painted with mercury.
皇帝的宝座被各种不同的有象征意义的艺术珍品围绕着,在大殿的中央。在宝座的上方是格子顶蓬,每个格子里都绘着金色的龙凤双舞的图案。
在顶蓬的中间是向上隆起的藻井,中间卧有两个蟠龙,龙头下探,口衔宝珠。宝珠是用玻璃做成以水银喷涂。

The 'XuanYuan Mirror'
轩辕镜
From the ceiling hangs a special spherical pearl called the XuanYuan Mirror. This pearl was supposed to be able to distinguish right from wrong. It was also said to be able to detect any usurper of the imperial power; if anyone who was not the descendant of the Emperor Huang Di (the first emperor) usurped the throne, it would drop down and strike him to death.
在天花板中间悬挂的特殊的宝珠叫做"轩辕镜"。这个镜子可以明辨是非,判断对错。据说它可以察觉任何篡夺皇权的人,如果他不是黄帝(第一个皇帝)的后代篡夺了宝座,它就会掉下砸死那个人。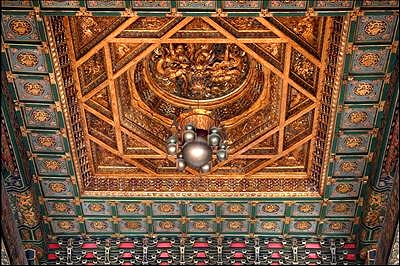 The warlord Yuan Shikai, who attempted to instate himself as emperor after the forced abdication of the last emperor PuYi, was so afraid that the pearl in the caisson may fall and hit him that he ordered the throne to be moved slightly backward. This is why you see that the throne is not directly under the caisson.
军阀头子袁世凯,在逼迫最后一位皇帝溥仪退位后,他想自封为帝。但他担心轩辕镜会掉下来砸死他所以就命人把金銮宝座向后稍微挪了些。这就是为什么你现在看到的宝座不是在藻井的正下方。
Just imagine the majestic and awesome scene in the past when the emperor sat on the throne, the ministers and all their subordinates kneeling down, kowtowing and chanting aloud "Long Live Your Majesty", with incense burning and the sounds of bells ringing and drums beating in unison!
可以设想一下,过去当皇上坐在他的金銮宝座上的场景,香烟缭绕,钟鼓齐鸣的时候,所有的文武百官,军机大臣全部跪叩在地,齐声高呼"皇上万岁!"那是多么宏伟壮观的场景!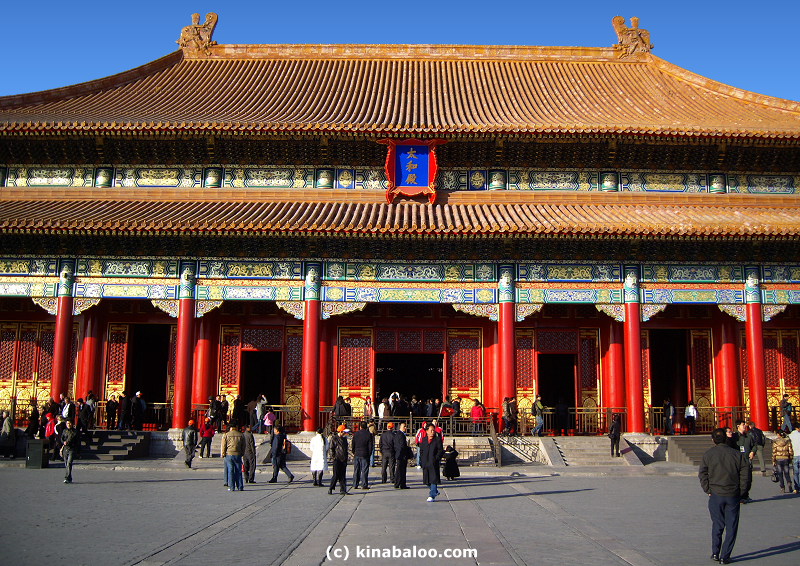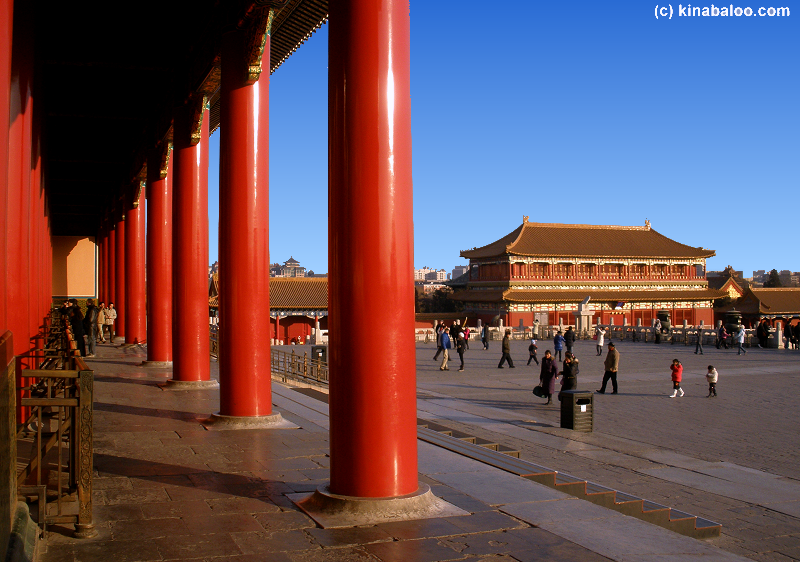 Below are two views of buildings to the side of the hall as seen from the raised platform that the Hall of Supreme Harmony sits on.
下面这两张图片是站在太和殿的巨大的基石平台上看到的两边的风景。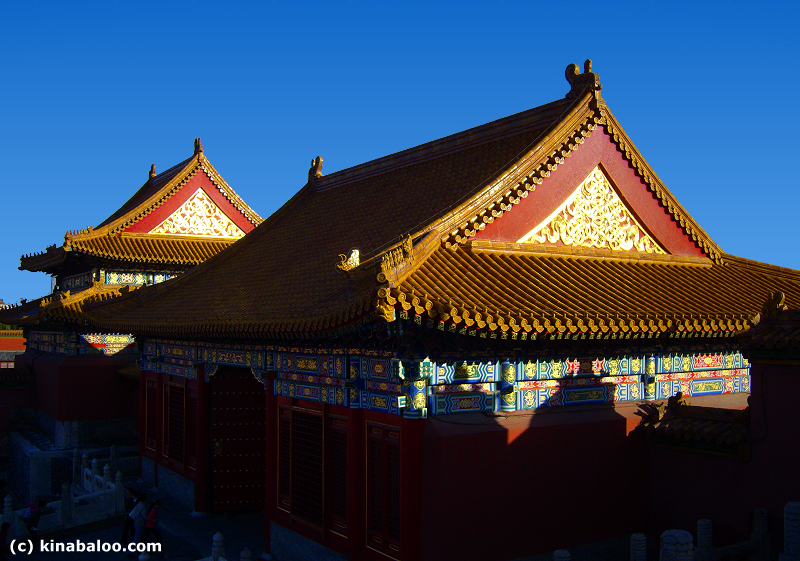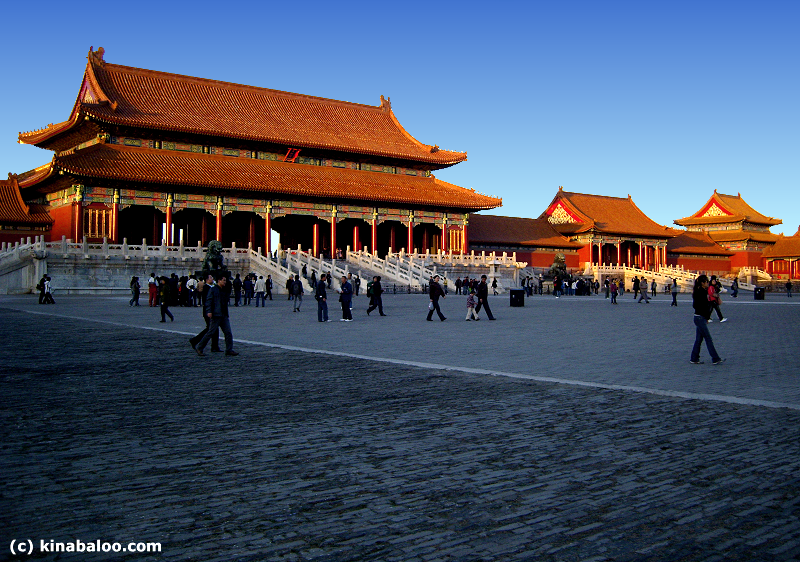 Looking north west from the raised platform.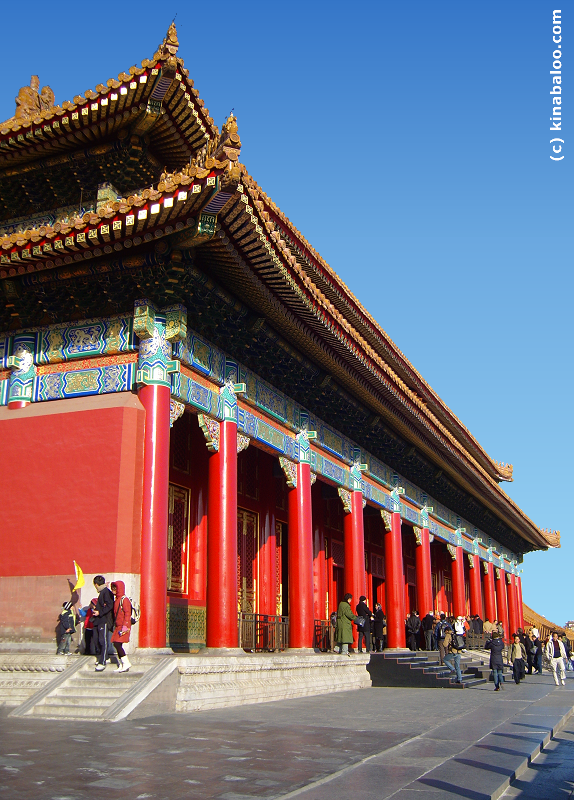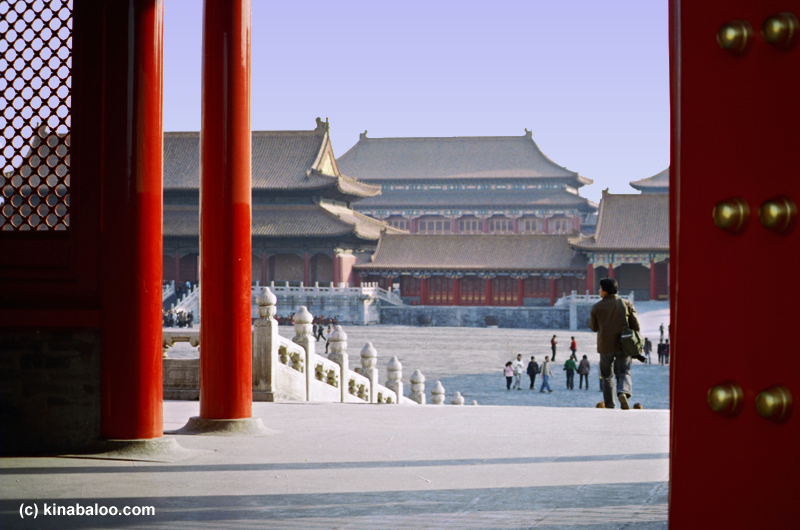 Looking south from one of the side gates.



Next : The Hall of Complete Harmony

Forbidden City
Introduction