The Hall of Preserving Harmony
保和殿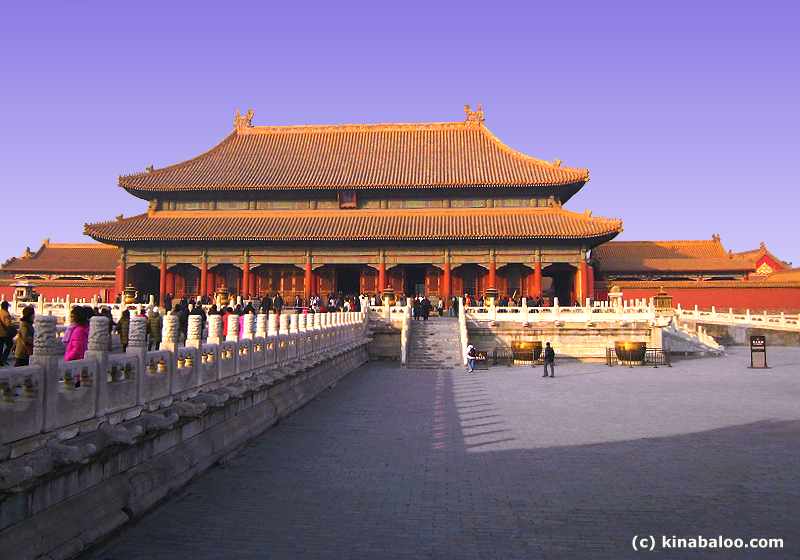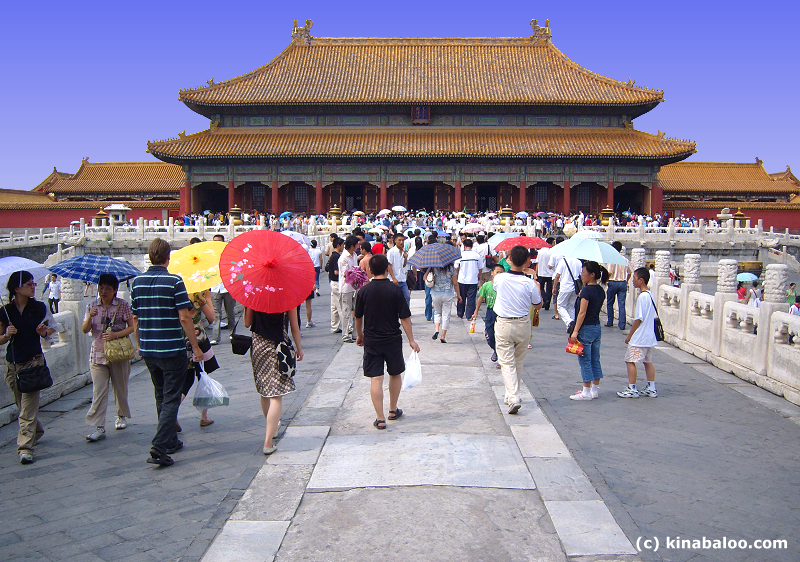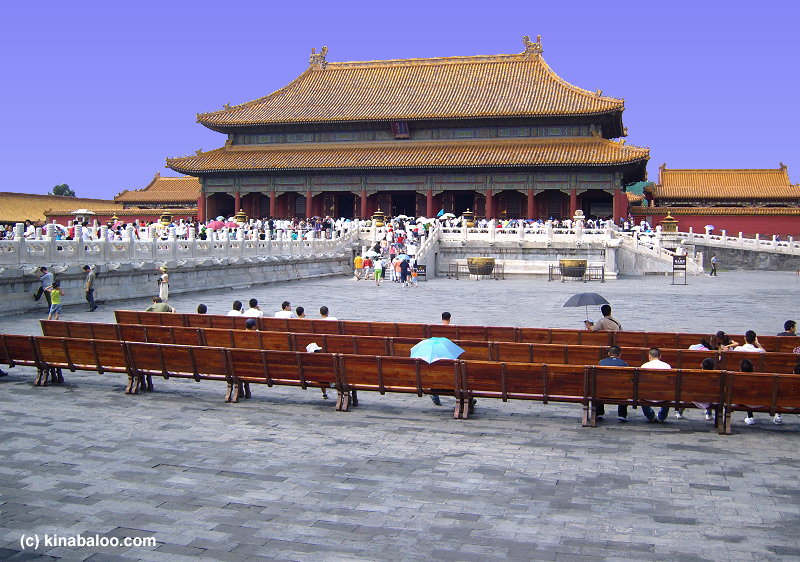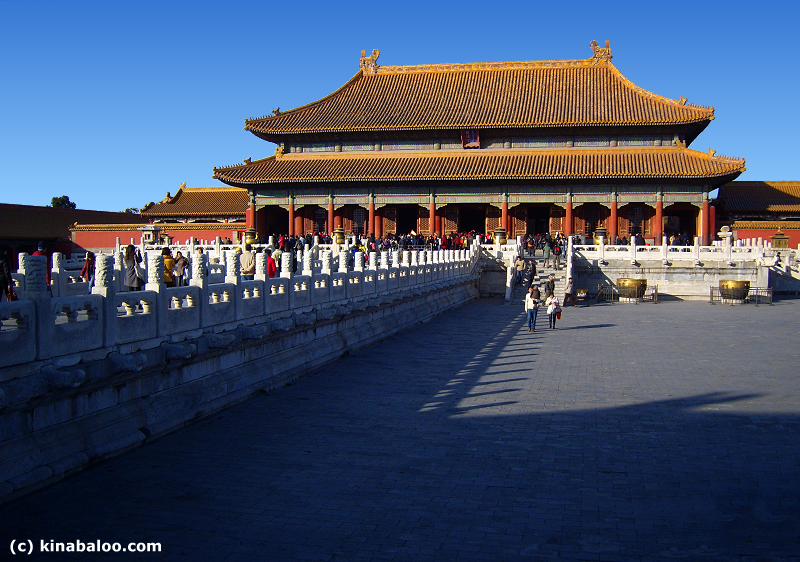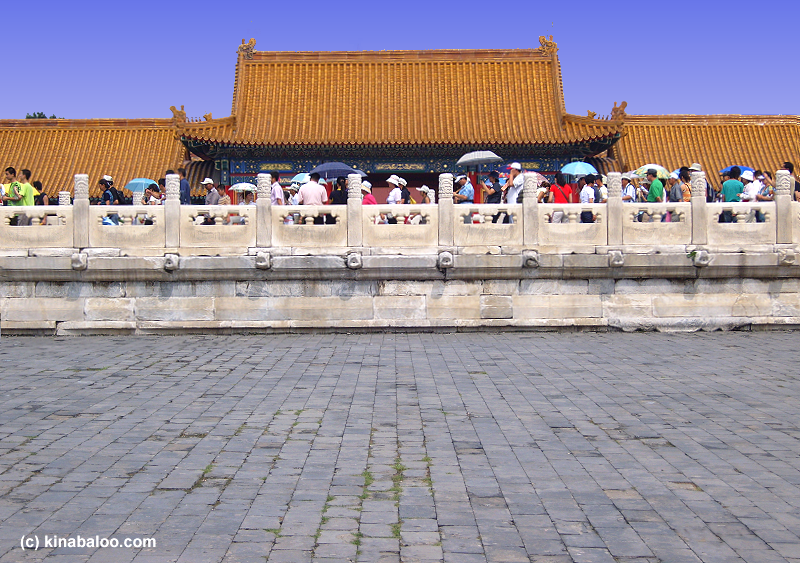 The Hall of Preserving Harmony (BaoHeDian), sits on the northern end of the three-tier marble terrace of the Outer Court, similar in style but a bit smaller than the Hall of Supreme Harmony but larger than the Hall of Complete Harmony.
It was first built in 1420, rebuilt in 1625 and renovated in 1765.
保和殿,位于三层基石的最北端,是外朝的最后一个殿。它的风格有点像太和殿,但比太和殿小,比中和殿长。它始建于1420年,分别在1625年和1765年两次翻修。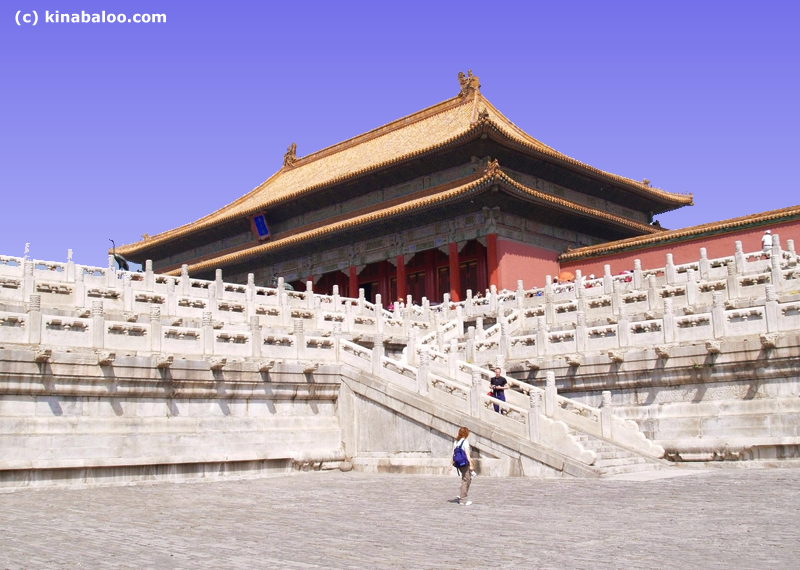 During the Ming dynasty, emperors would often prepare for ceremonies here, practicing speeches and changing clothes; for example, before the ceremonies of conferring the title of Empress or Crown Prince. During the Qing dynasty, imperial banquets would usually be given here. To celebrate a princess's marriage, emperors would invite high officials, the bridegroom and his father, and any relatives who have served the imperial government to a banquet. Every New Year's Eve, banquets would be held to feast and honor margraves, Mongol princes and civil and military officials.
在明朝期间,每逢大典例如册封皇后、立太子之前皇帝经常在此准备,演练、更衣。在清朝期间,经常在此举行御宴。为庆祝公主的大婚,皇帝会设宴邀请所有的高官,驸马和他的父亲,还有所有在职官员的家属前来参加。每年的除夕,会设宴款待边疆诸藩、蒙古王子和民间的军事县令。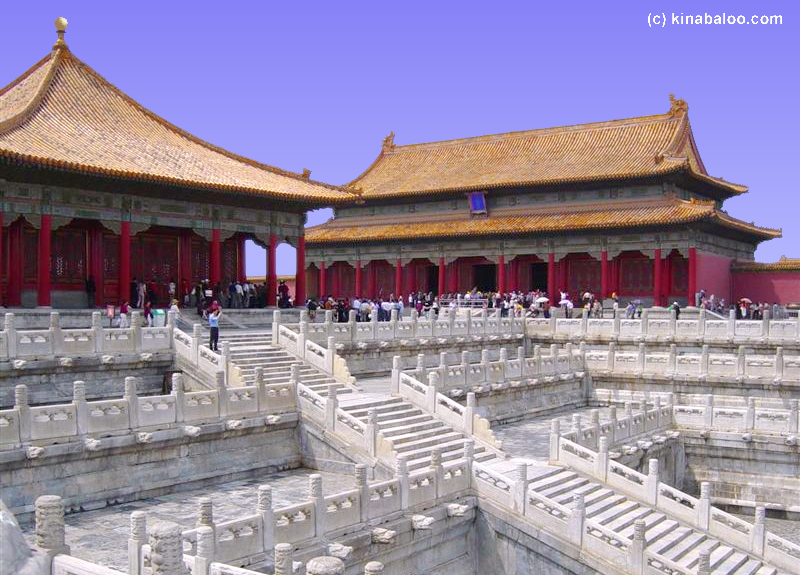 Steps leading down from the raised marble platform.
The Hall of Preserving Harmony can be seen on the right;
on the left is the Hall of Complete Harmony.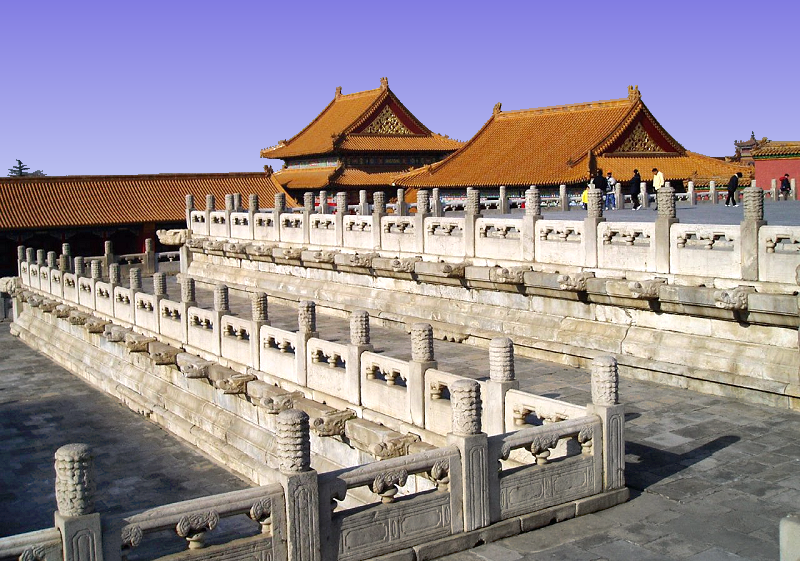 In 1789, during the middle of the Qing dynasty, Emperor QianLong moved the Palace Examination, the highest level and final stage of the nationwide imperial examination system, from the Hall of Supreme Harmony to this hall. Emperors would read the papers of the top ten candidates to honor them.
There were four levels of examinations, namely: the county level, the provincial level, the national level and the Palace Examinations. Those who survived the palace exam would get the title of 'Doctor' (Jin Shi), and their status and wealth were assured. This examination system started in the Han Dynasty. It was suspended every now and then and was finally abolished in 1904.
In 1898, the Capital University (Beijing University) was established, and about the same time, China sent students to study in foreign countries like Japan and France. In 1911, QingHua University, a well known university both at home and abroad, was also established. Thus, the modern Chinese education system began.
1789年,在清朝的中期,乾隆皇帝把殿试从太和殿移到了保和殿,全国最高水平考试的最后一站皇帝亲试。皇帝会阅读前十名考生的卷子,然后奖赏他们。
这种考试总共分四个等级,为:院试、乡试、会试、殿试。那些通过殿试的人将被授予类似博士的学位称"进士",他们的身份、地位、财富就都有保障了。这种考试体系始于汉代,中间暂停过数次,最后被取消是在1904年。
1898年,首都大学(北京大学)成立,大约在同时中国派遣了一些留学生去外国学习,像日本、法国。1911年清华大学成立,一所海内外知名的大学!到此,中国的现代教育体系开始了。