The Inner Court
内朝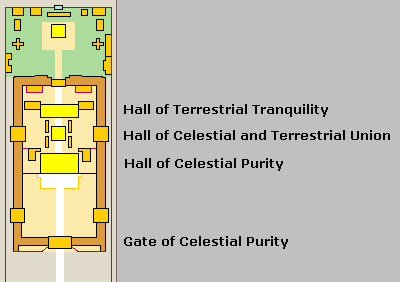 The three halls of the Inner Court are slightly smaller scale versions of the three halls in the Outer Court.
Like the three great halls for official ceremonies, they stand along the same north-south axis on a second huge stone terrace.
内朝的三殿要比外朝的三大殿在规模上稍小一些。和那办理朝政的三大殿一样,他们也座落在同一个南北中轴线上,一个两层的汉白玉石基上。


The Gate of Celestial Purity
乾清门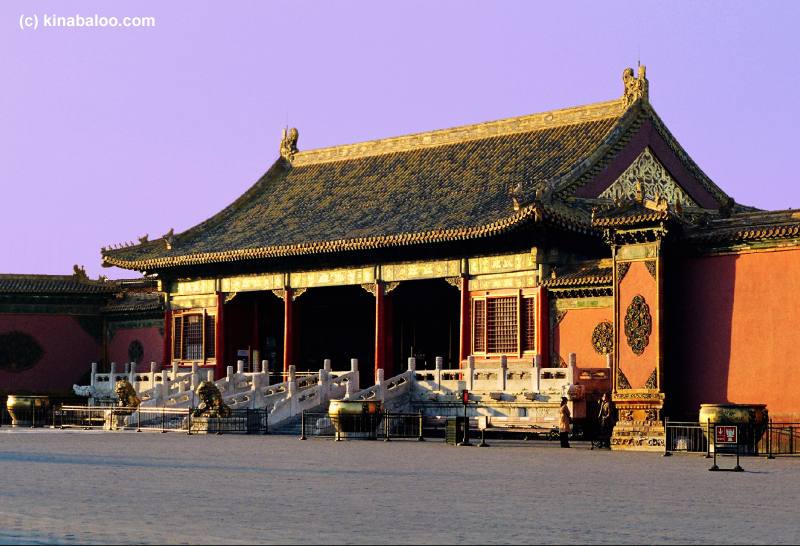 The Gate of Celestial Purity (QianQingMen), is the main gate of the Inner Court. In front of the gate, there is a courtyard which is 200 meters long from east to west and is 30 meters from north to south.
This courtyard both separates the Outer Court and the Inner Court and integrates them.
乾清门,是内朝主要的大门。在门前有一个东西长200米南北长30米的大院子,它即起到了分隔内朝外朝的作用,又把他们容为一体。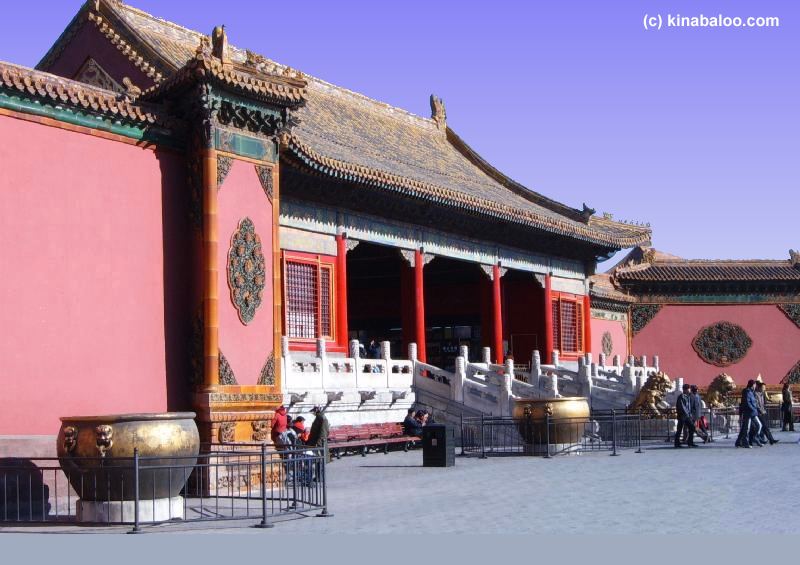 During the Qing dynasty, this was the place where emperors, while sitting on the throne set in the middle of the gate, would hear reports and make decisions. The huts to the left and right are duty rooms and waiting rooms for ministers to be interviewed.
在清朝,这个地方也兼为处理政务的地方,皇帝会坐在大门中间听取简短的报告并做出决定。左右两边的小屋一个是值班室(九卿值房)一个是军机部长接见来访人的地方(军机处)。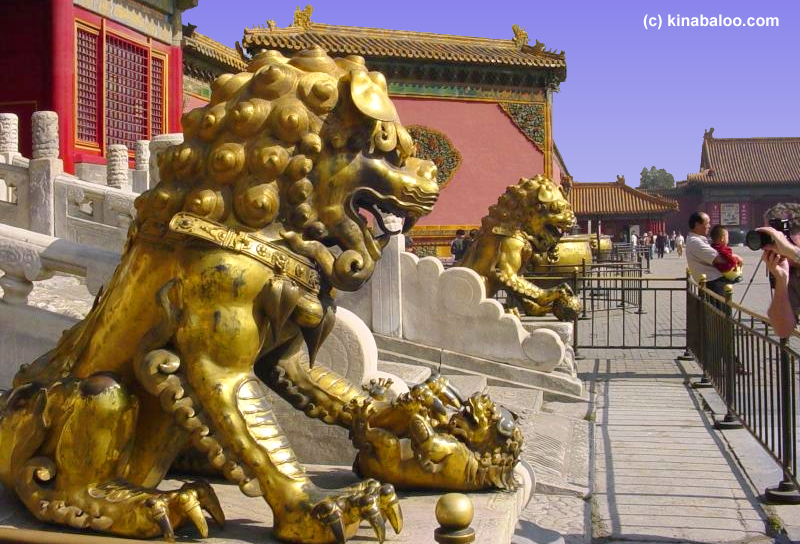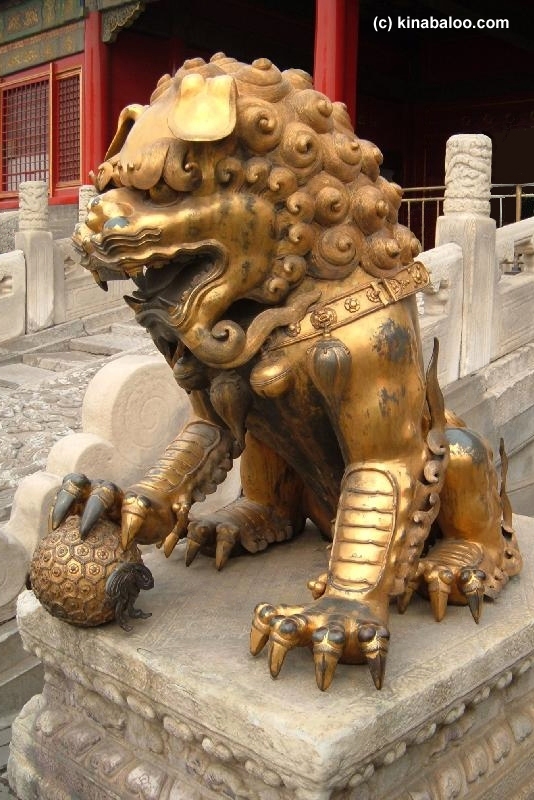 Male lion.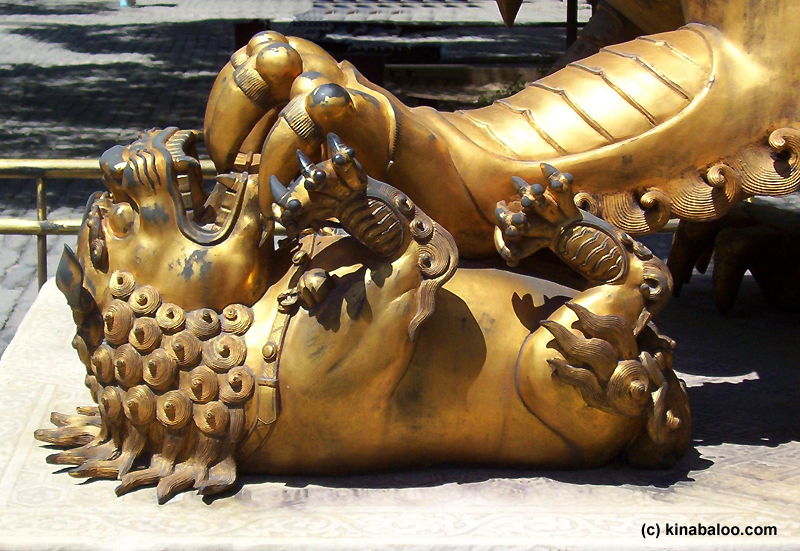 A closer view of the baby lion under the mother's left paw.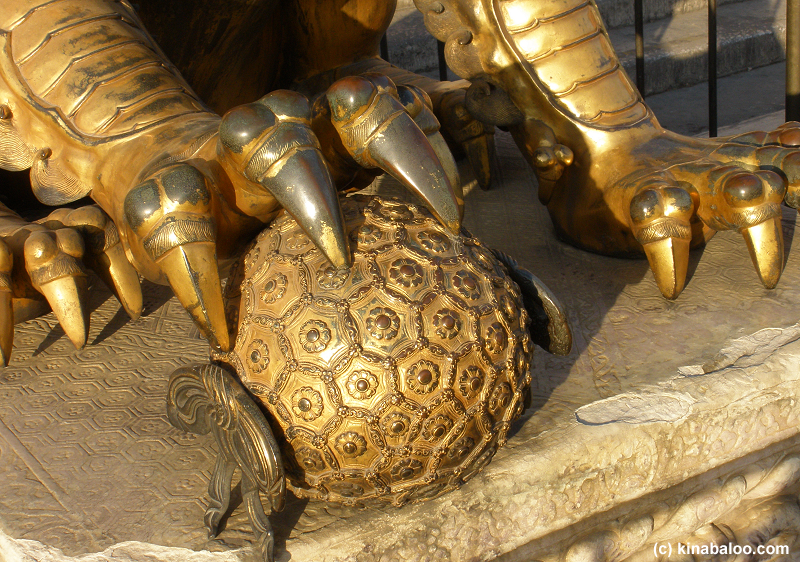 Along the walls flanking the gate the are ten gilded bronze vats. These huge vats are both decorations and reservoirs in case of fire. Each one weighs 4 tons by itself and can hold 4 tons of water.
沿着这个大门两侧有十个镀金的青铜大缸。它们即起到装饰的作用,又是用来装水的以防火灾。每一个大缸自重4吨,又可装4吨的水。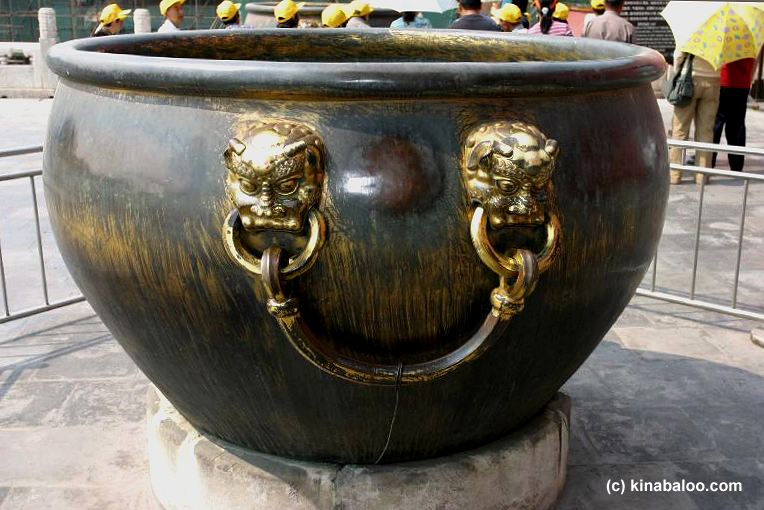 There are in total 308 vats in the whole Forbidden City, including 22 of this kind.
在紫禁城总共有22种,308个这样的大缸。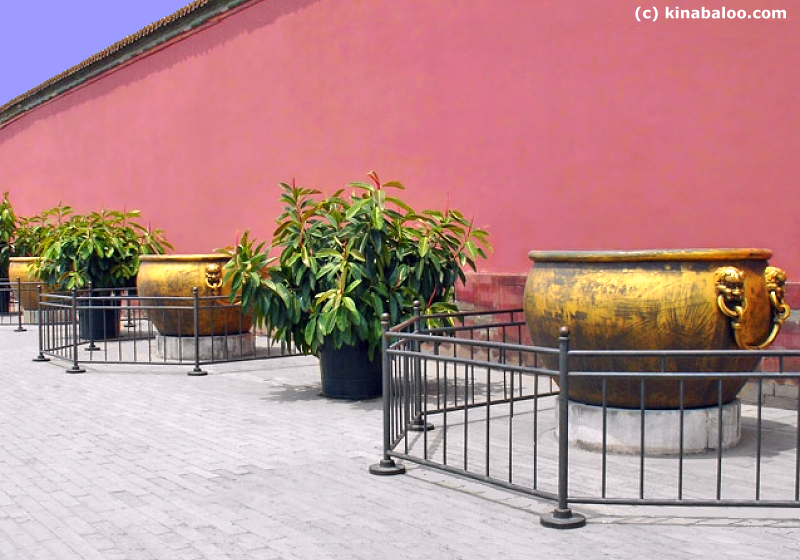 Next : The Hall of Celestial Purity

Forbidden City
Introduction