History of TianAnMen Square
TianAnMen Gate (actually, 'Men' means 'Gate') was built in 1417 (Ming Dynasty), to complement the Forbidden City. In 1699 (early Qing Dynasty), TianAnMen was renovated and given its current name.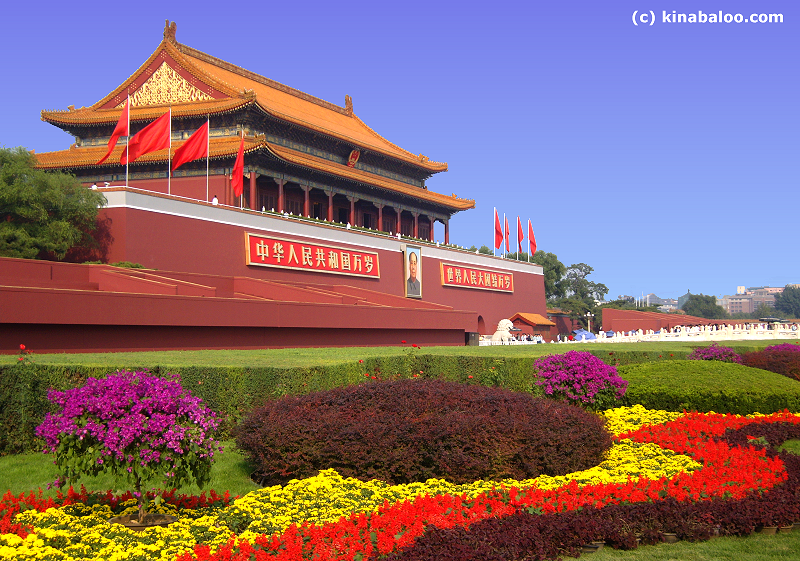 TianAnMen Gate.
During the Ming and Qing eras, there was no public square here - the area was filled with offices of the imperial ministries. These were badly damaged during the Boxer Rebellion and the area was cleared to produce the beginnings of the TianAnMen Square we know today.
Near the centre of today's square, close to the site of the Mao ZeDong Mausoleum, once stood one of the most important gates in Beijing. This gate was known as the 'Great Ming Gate' during the Ming Dynasty, the 'Great Qing Gate' during the Qing Dynasty, and simply 'China Gate' during the Republic of China era.
Unlike the other gates in Beijing, such as TianAnMen and QianMen, this was a purely ceremonial gateway, with three arches but no ramparts, similar in style to the ceremonial gateways found at the Ming Dynasty Tombs.
However, this gate had a special status as the 'Gate of the Nation', as can be seen from its successive names. It normally remained closed, except when the Emperor passed through. Commoner traffic were diverted to two side gates at the western and eastern ends of today's square.
Because of this diversion in traffic, a busy marketplace, called 'ChessGrid Streets', developed in the small, fenced square to the south of this gate.
In the early 1950s, China Gate (as it was then known) was demolished along with the ChessGrid Streets to the south, completing the expansion of TianAnMen Square to its current size.
The new square was used for mass rallies during the Cultural Revolution.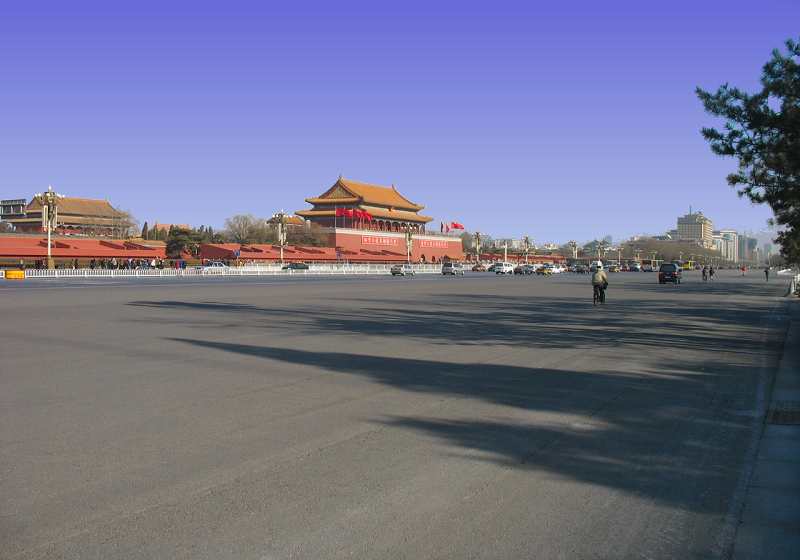 Approaching TianAnMen Square along Chang'An Avenue from the west, south side.
TianAnMen Square was renovated just before the 50th anniversary of China in 1999.
TianAnMen Square is a focus for people from all over China both on International Labor Day on May 1 and National Day on October 1st (both are week long holidays in China).