Layout and Map of BeiHai Park
The park occupies an area of 70 Hectares; this incldes a beautiful 39 Hectare lake. The name BeiHai means 'north lake'. The lake itself has the name TaiYe.
Within the garden, pavillions, temples and courtyards nestle amid beautiful scenery of lakes, hills and trees.
Beihai Park is composed of TuanCheng (Circular City), JiongHua (Jade) Island, Eastern Shore Scenic Area and Northwestern Shore Scenic Area.
这个公园占地70公顷,其中湖占39公顷。北海就是指"北湖"这个湖自身的名字是"太液湖"
在这个园林里亭台、寺庙和传统的庭院都依偎在这美丽的湖光山色之中。
白海公园主要是有团城、琼华岛、东岸、北岸景区组成。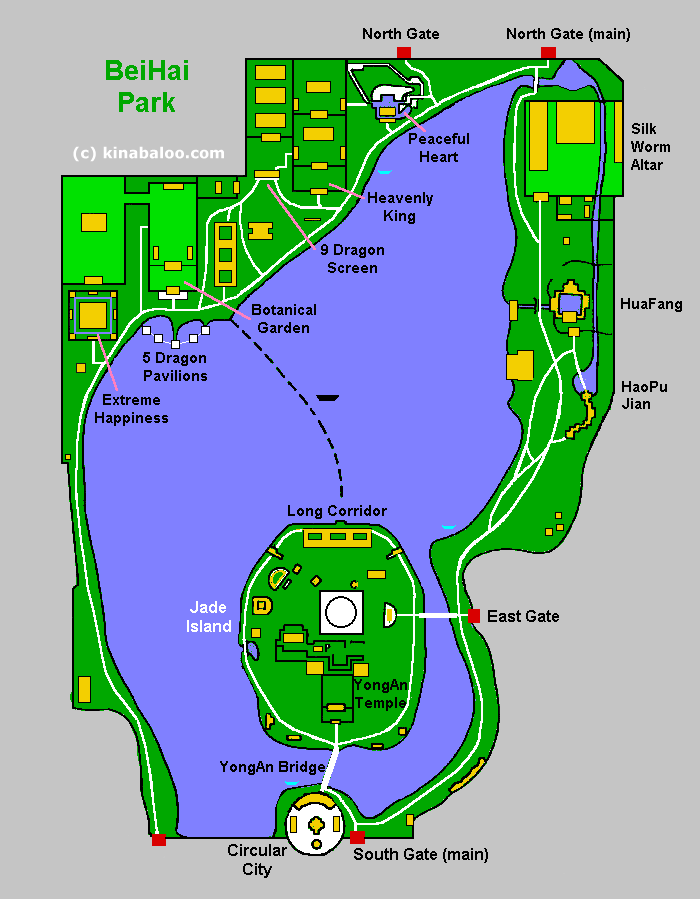 QiongHua island is connected to the rest of the park by two stone bridges - one in the south and one in the east. There is also a ferry boat link with the north-west corner of the park. There are also three places to hire a small pleasure boat (indicated by a small blue boat on the map).
To the north of BeiHai is ShiChaHai (QianHai and HouHai) and to its east is JingShan Park. The Palace Museum (Forbidden City) is to the southeast.
琼华岛是靠两个石头桥亭公园相连—一个在南边一个在东边。也有一个摆渡船连接着公园的西北角。有三个地方可以租到小游乐船(这里用蓝色小船指示)
在北海公园的北面是什刹海(前海和后海),它的东面是景山公园。故宫博物院(紫禁城)在它的东南面。
Altogether, BeiHai Park has 5 entrance gates, at all of which entry can be gained. However, the south gate is the main gate and this guide's suggested route around the park begins here.
总之,北海有5个门,基本上每个门都可以进入。然而,南门是最主要的门,我们也建议您游玩北海时走这个门。

Beihai Park Home