The White Dagoba
白塔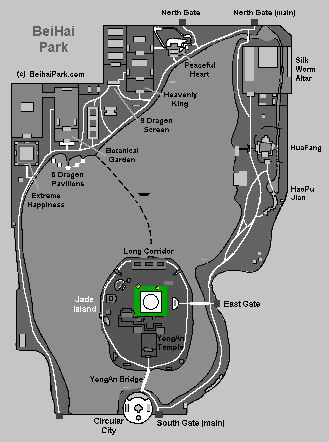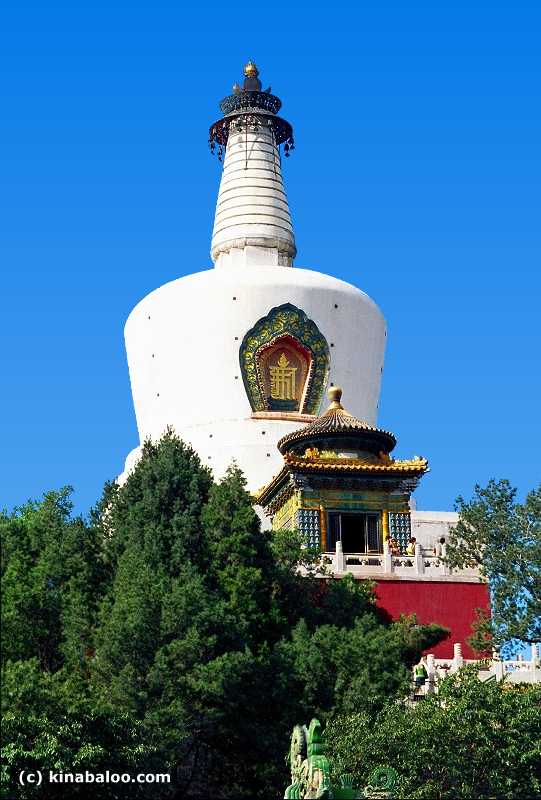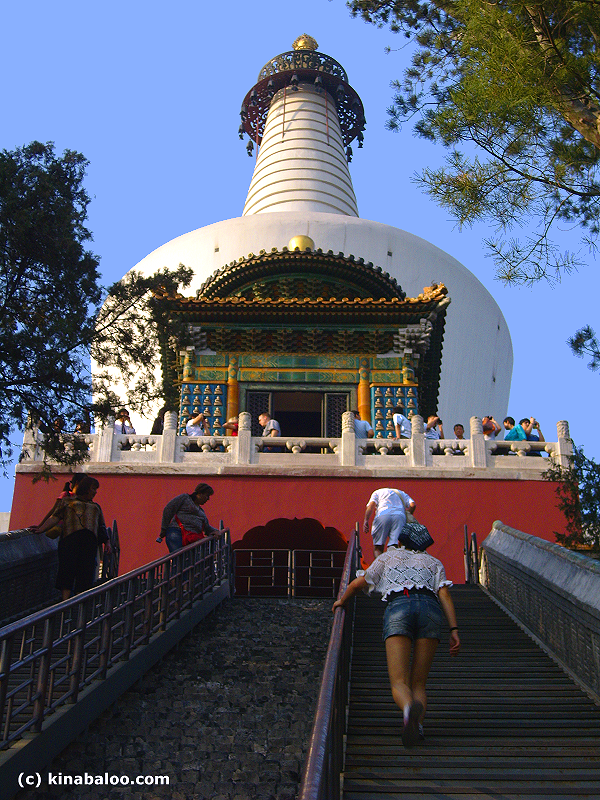 Sitting on top of the hill on Jade Island, the famous White Dagoba is a 16th century masterpiece of Buddhist art.
座落子琼华岛的山顶上的白塔是16世纪杰出的佛教艺术形式的建筑。
A dagoba differs from the more well-known pagoda in shape. While a pagoda is a multi-storied pyramidic tower, a dagoba is a single rounded structure topped by a spire and crowned by a golden tip - a gilded ball shaped like a flame. Fourteen copper bells hang from its copper canopy.
The White Dagoba in BeiHai Park is 35.9 meters high. It is built of brick and stone whitened with lime. There is no entrance but an intriguing possibility is that a red emblem on the body of the tower is an opening which was sealed when the tower was completed. It is believed that Tibetan Buddhist scriptures, Lama robes and other sacred articles are stored inside. Sutras in the Tibetan language are carved inside the front gate.
这个舍利塔不同于以往我们所见过宝塔的样子。一般的都是金子塔形状分成很多层。它是一个简单的环状外形,塔顶有一个双层铜制伞盖,其边缘悬14只铜钟,最上为鎏金火焰宝珠塔刹。
白塔高35.9米,用砖、石头和白灰砌成。没有入口但有个有趣的传说,塔身上有个红色的小门称"光眼门"在建筑建好后被密封起来,门内刻有藏文咒语,西藏佛教圣经、喇嘛长袍和其他神圣的物品被存放在里面。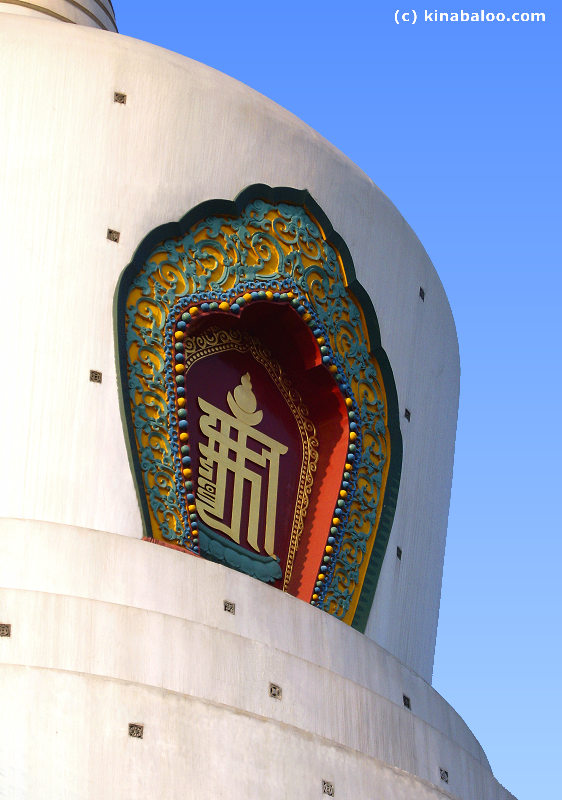 The tower offers magnificent views over the city. Visitors can see from here the Five Dragon Pavilions standing on the opposite bank of the lake, with colourful ferry boats travelling back and forth between the shores. Directly south is the quiet (no public access) ZhongNanHai (Central and South Lakes) - two adjacent lakes which are now part of the grounds housing the headquarters of the Chinese Communist Party Gentral Committee and the State Council.
To the south east one can see the yellow roofs and vermilion-walled buildings of the Forbidden City. Clearly visible directly north of the Forbidden City are the five pavilions arrayed along the top of JingShan Hill, which served as a screen for the Palace.
塔顶上可以看到整个城市绝好的风景。从这游客可以看见湖对面的五龙亭,还有华丽的龙船来回往返于湖上。正南面是安静的(不开放)中南海——湖面陆地上的房子是中国共产党委员会总部和国务院。
东南面可以看到故宫金色的屋顶和红色的高墙。还可以明显的看见故宫正北面在景山顶上的五个亭子,它们对于皇宫来说起到一个屏风的作用。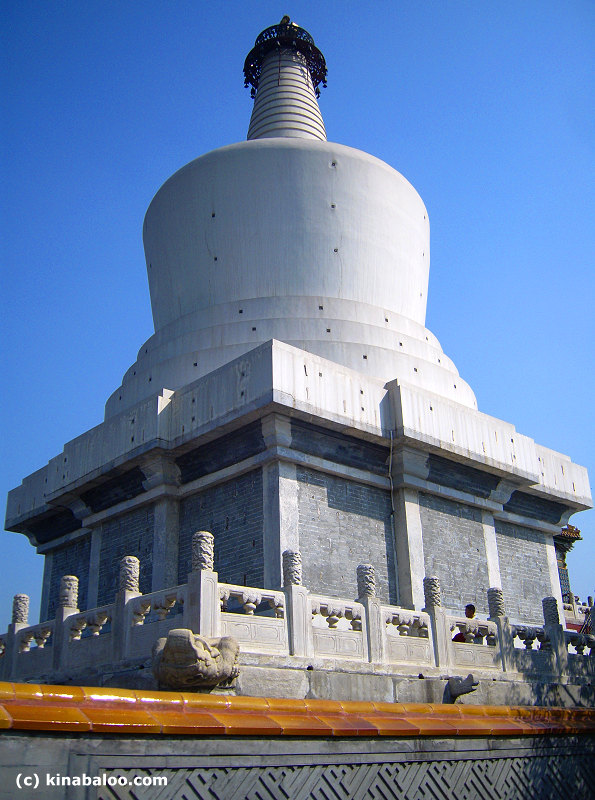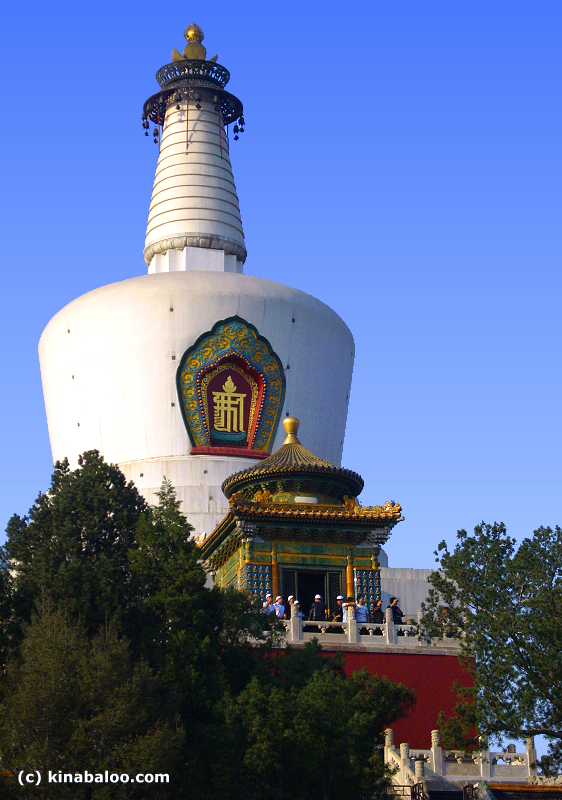 On a clear day you can see in the distance the Western Hills that form a huge jade backdrop to the capital. On a very clear day, one can just see the mountains in the north where the Great Wall passes by.
在晴天里你可以从看见远处的西山像首都的一个巨大的绿色的背景屏。在一个非常晴朗的天气里,我们还可以看到北面有长城的那座山。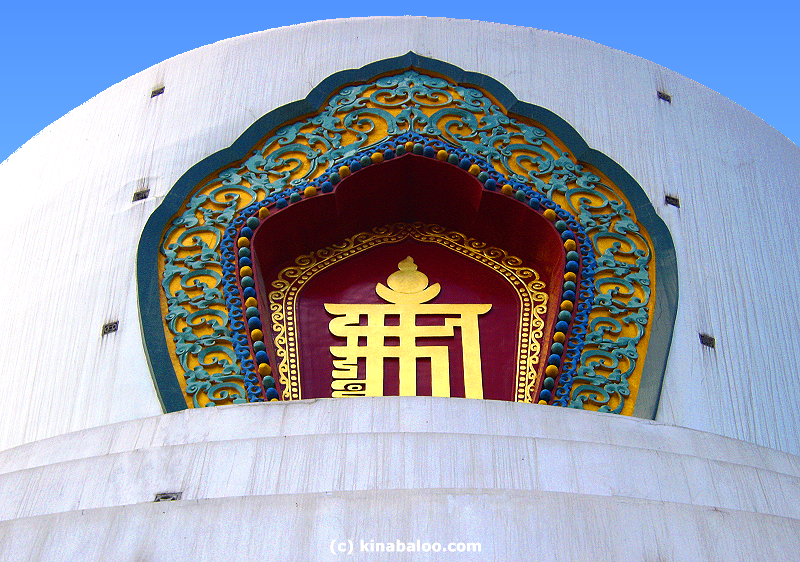 NEXT : The Long Corridor

Beihai Park Introduction