Introduction
简介
Badaling Great Wall was constructed during the Ming Dynasty around 1505, together with a military outpost reflecting the location's strategic importance.
The Badaling Great Wall averages 7.5 meters in height. It is 6.5m wide at the base and 5.8m wide at the top - wide enough for five horses or ten soldiers side by side.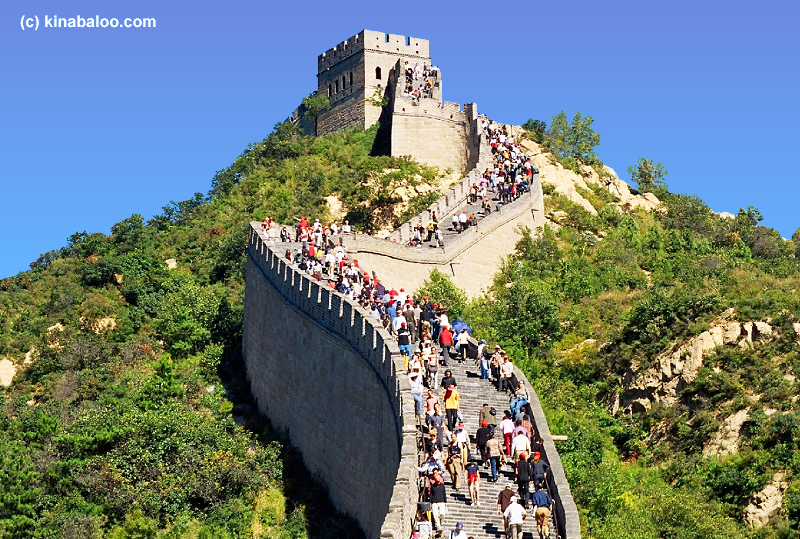 八达岭长城始建于明朝1505年左右,于军事前哨一起建造可见它在战略位置上的重要性。
八达岭长城平均高7.5米。底部基座宽6.5米顶部宽5.8米——宽度足够五匹马或十个士兵并行。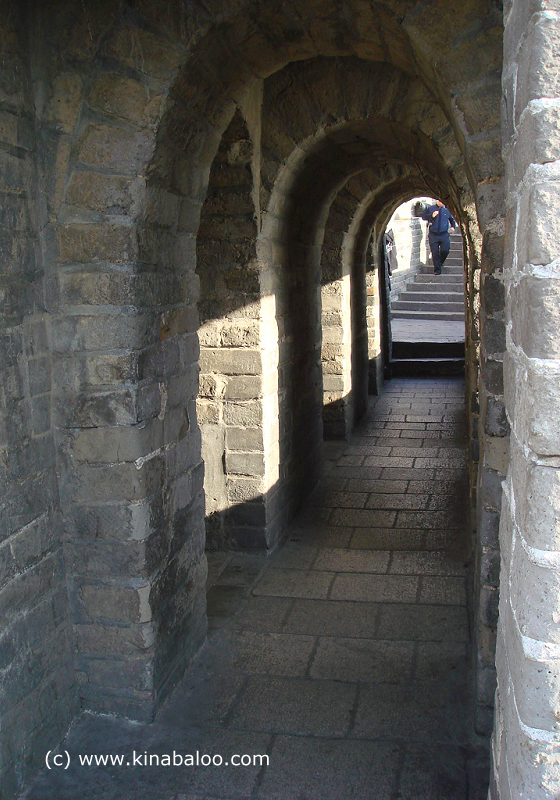 Badaling Great Wall is situated about 10km further north of JuYongGuan Great Wall. They are both sited on the same natural pass through the mountains to the north of Beijing and hence a critical point of defence.
Although popular, Badaling is a good introduction to the Great Wall. Authentically reconstructed, Badaling shows the Great Wall as it would have looked originally, and it does not look too new. Badaling Great Wall stretches for 4.8 km along rolling mountains and has 19 strategically located watchtowers.
八达岭长城位于居庸关长城北面10公里处。他们都在同一自然景地穿过山区到达北京北面的山区,因此是防御系统的重要要塞。
八达岭很受欢迎,它很好的展示了中国的长城。虽然它重建过,但还是展示了长城最初的样子,而且看起来不是是非常的新。八达岭长城沿着起伏的山脉连绵480公里,共有19个敌楼。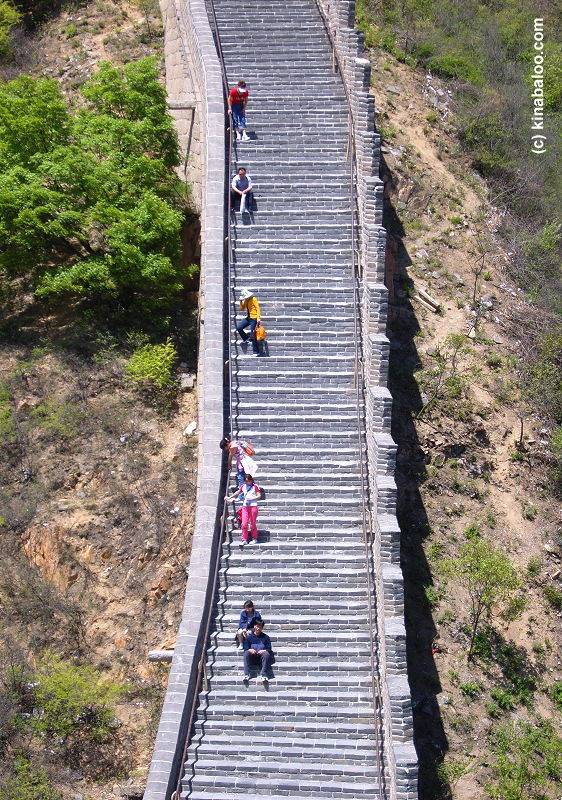 Badaling Great Wall has been carefully restored, and in 1957 it was the first section of the Great Wall to open officially to tourists. The immediate area has seen some useful development, including hotels, restaurants and a cable car. A Great Wall Museum has been established near to the wall.
Over 100 million visitors have climbed Badaling Great Wall.
八达岭长城已经仔细的修复过了,在1957年它作为第一段正式对游人开放的长城。给附近的直属区带来的有益的发展,包括酒店、饭店、缆车。在长城附近还建起了一个长城博物馆。
目前为止已有近一亿的游客来攀登八达岭长城。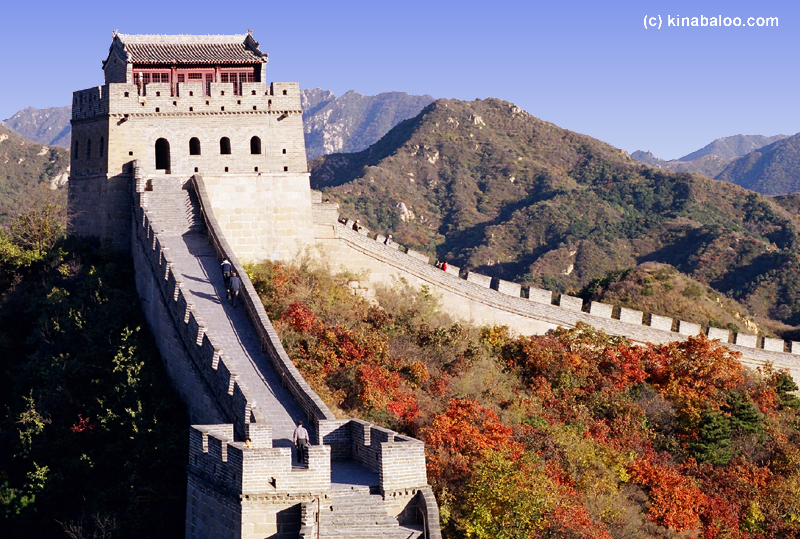 Badaling Great Wall offers an interesting climb and great views, although it can also be the most crowded (near the start). However, everyone is in good spirits and there is a sense of comraderie and fun involved in being with others. On a hot day, it can be quite exhausting to reach the top - but you will all be in the same boat! Nevertheless, if possible, try to avoid going on a national holiday or at the weekend.
八达岭长城提供了一个很好的攀登场所而且有非常雄伟的景色,尽管它也是最拥挤的地段(尤其在入口处)。然而每一个人都很兴奋大家的精神状态都很好,情绪互相感染。在炎热的天气里,当你爬到顶峰时已经相当的精辟力尽了 — 但是算在小船里也会同样的。不过,如果可能尽量避开法定假日和周末。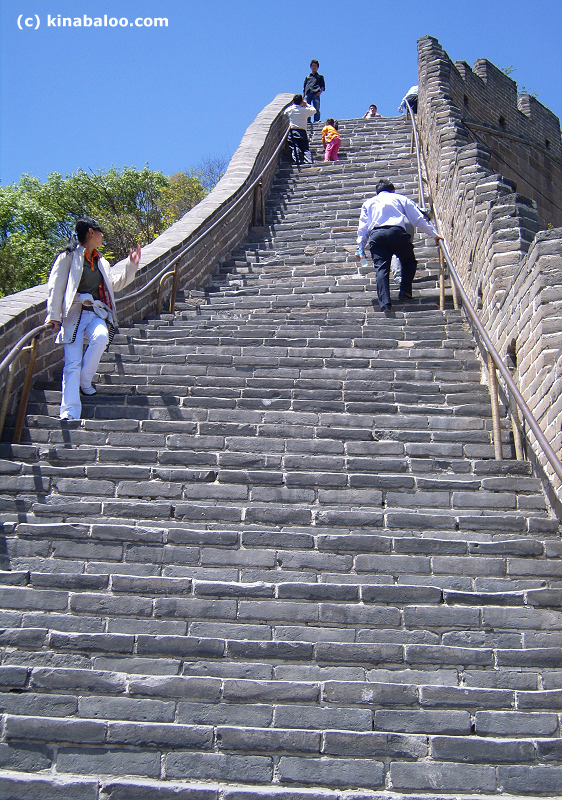 Visiting BaDaLing Great Wall
游览八达岭
The recently completed Badaling Expressway provides a fast and direct route to Badaling from Beijing. Badaling Great Wall is only 65 minutes from Beijing.
You can take coach (bus) 919 from Deshengmen (a little east of JiShuiTan subway station). The price is only 12 yuan each way. The last return journey is about 17:30pm. On arrival, turn right, up the gift shop and cafe lined hill and under the Great Wall itself; the ticket office and entrance is on the right. For the return journey, take the bus from the same bus stop as where you arrived.
近来八达岭高速的建成,提供了一个方便快速,而直接的道路到八达岭。从北京到那只用65分钟就可以。
你可以乘坐919长途汽车从德胜门(在积水潭地铁站的东边一点),票价每人只用12元。最后一趟返程车大概在17:30。到站后,向右转,沿着长城脚下的礼品店和咖啡店向上走,售票厅和入口在右边。至于返程,你可以在来时的同一巴士站乘坐相同的返程车。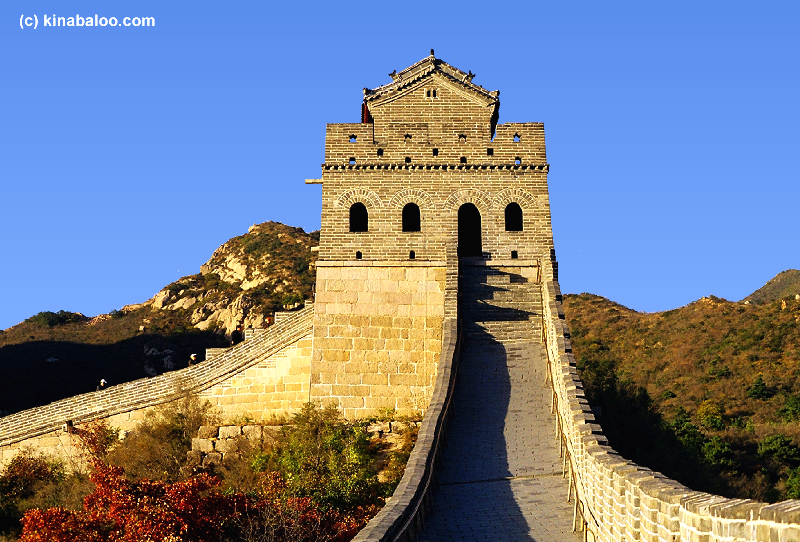 The entrance to Badaling Great Wall that you will see close to the bus stop is for the cable car that can take you up about 2/3 of the way to the peak - but that would spoil the fun! Take it down if you're in a hurry for the last bus. If you do miss the last bus, there will be private cars offering to take you. Join with others and try to strike a hard bargain (perhaps 150 yuan total for 2 or three in a car). Alternatively, you can ask to be taken to ChangPing which is halfway to Beijing and from where there are busses into the evening to Beijing (route 345, last bus 22:00).
在八达岭长城的入口处挨着巴士站,你可以看到缆车,它可以载你去山顶,约三分之二的路程——不过那有可能破坏登长城的乐趣所在。如果你着急赶最后一辆车可以乘它下山。如果你错过末班车,还有一些私家车,愿意载你回去。不过最好和其他人一起搭伙,试着砍价(也许一辆车150元可以乘2-3个人)。你也可以选择,只坐一半的路,让他载你到昌平,在那做345路回北京,末班车直到晚上10点。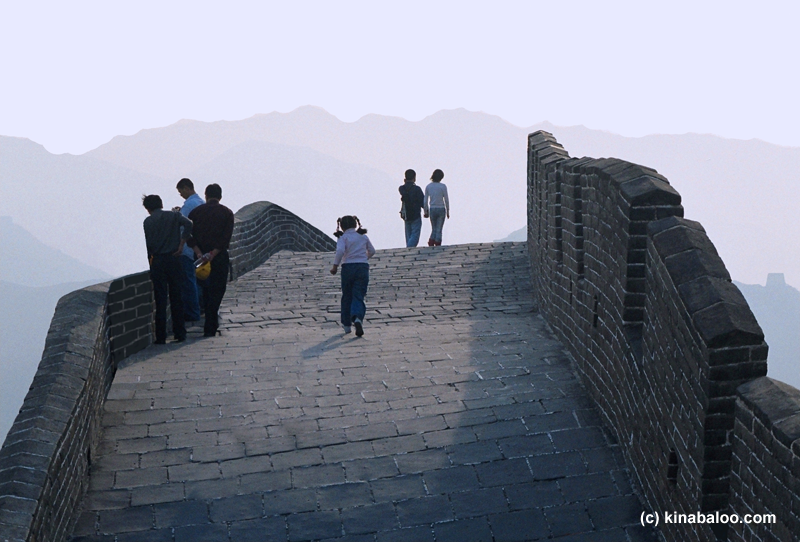 After buying your ticket (about 50 yuan), make your way up on to the Great Wall. You can go either left or right (or both, but not at the same time!).
Left : A bit shorter than to the right. Quite steep at first, then levels out. Return the same way.
Right : Takes you to the highest point. From there, continue to the second half which is both much quieter and even more interesting. There is an exit in a valley near the end of the second part - take the road (right, uphill) for 10-15 minutes back to the starting point ticket office. Or trace your journey all the way back again - The light will be different and the fact that you are going in the opposite direction (up where you had gone down, and vice versa) makes for a whole new experience.
买完票后(大概50元)向上走你就可以开始登长城了。你可以选择走左边还是右边(或者都爬,但不能是同时)。
左边:比右边稍微短一点,开始有点陡峭然后就渐趋平缓了。原路返回。
右边:带你到最高点。然后从那继续下半截,变得更安静更有趣。在第二段的接近尽头的地方有一个出口在山谷里——走那条路(右边、上山)大约10-15分钟回到起始的卖票厅。或者顺着你来时的路全程原路返回——情况将会有所不同,事实上,你正朝着相反的方向走(如你下来, 反之亦然) , 一个全新的体验。
To trek first to the left, then back, then the longer right and back takes about 3 to 4 hours. Just the right loop (back by road) takes about 1 1/2 to 2 hours.
可以先爬左边,然后回来,再上右边长一点的,大概要花3-4个小时。只到右边的顶点,然后顺着小路回来大概1-2个小时。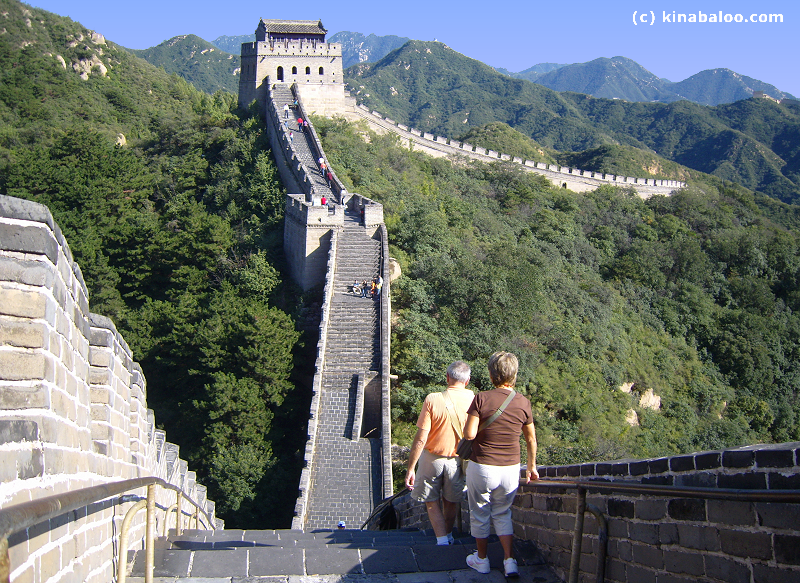 Some parts of the Great Wall are steep so be careful, especially of your footing when taking photos or after a shower of rain. Wear appropriate footwear.
Wind chill can be significant in winter. In summer, you will need plenty of fluids.
Films, drinks and snacks are available up on the wall, but pricey - so it is best to take sufficient with you. If you need more film or batteries, bargain hard - but you probably will have to accept paying more than normal.
Badaling Great Wall is open daily, 6:30 - 18:30.
Admission is 50 yuan.
长城的有些地方是非常陡峭的所以一定要小心,尤其是当你拍照片时站的位置,或是雨后。最好穿适当的鞋子。
在冬天寒风是非常大。在夏天你需要大量的水。
在长城上可以买到胶卷、饮料、小吃,但是都很贵——所以最好你随身带充分。如果你需要胶卷和电池,别忘了使劲砍价——不过你仍然要接受付比平时高的多的价钱。
八达岭长城每天都开放,6:30-18:30。
票价:50。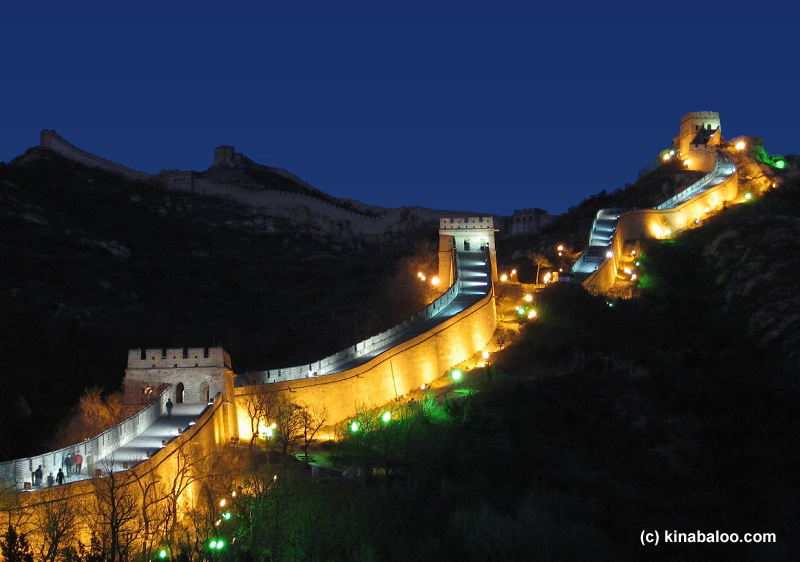 Video of Badaling Great Wall
[video v=xbTko4UVnHc]